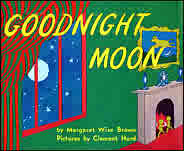 Goodnight Moon, by Margaret Wise Brown, is our bedtime book.  We read it together every night, and I particularly love this book because it is so simple and follows a pattern, so it's easy to memorize.  When we are camping or on vacation and forget our bedtime book, we can still "read" it.
The illustrations bothered me at first because the colors are rather harsh, but I got used to it.  They're still not my favorite, but that doesn't change how I feel about the book.  The words are great – they rhyme, which is a great thing for children to hear in books, and they are a sweet way to end the night.  If bedtime is traumatic, try going around the room and saying goodnight to the things you see with your child.
As a side note, when reading with children, read the title and the author before starting.  Knowing the author of a book is always a good thing.  Enjoy!