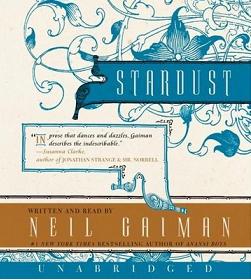 I watched this movie over the Christmas holidays last year and loved it. I love fantasy romance adventures like this one – the story was clever so I wanted to read the book. I liked the movie better – a rarity.
The story is about a fallen star rescued/captured by young Tristran Thorn whose objective is to take the star to his love, Victoria, in return for a kiss and hopefully marriage. A trio of witch sisters want the star's heart to give them youth again, so the star is in great danger, although she does not entirely know it. The story follows Tristran and Yvaine on their journey back to Victoria.
If you only want to do one, I would watch the movie – it's excellent.  I guess this is more movie talk than book talk…they're both good!