You can do anything with almond bark. It's probably my new favorite baking item – you can cover pretty much anything with chocolate and be confident that it will taste good. With some pumpkin cookie cutters you can make some delicious and special rice crispie treats.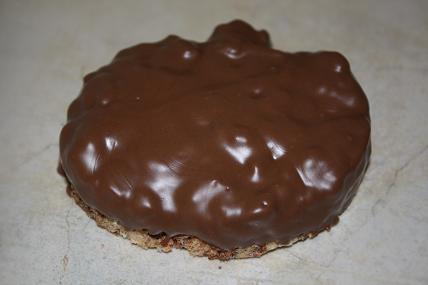 1. Make a double batch of rice crispy treats, using the recipe on the bag of marshmallows, and put them into a jelly roll pan/cookie sheet.
Tip: A double recipe calls for about 10 c. rice crispies – mix only 8 c. into the marshmallow/butter/vanilla mixture. Pour the whole mixture into your cookie sheet. Spreading the sticky goo to evenly fill the cookie sheet is pretty tricky. My solution is to spread it out as best I can with a spoon and then sprinkle the remaining 2 c. of cereal onto the top. With the cereal on top, you can press down without getting your hands sticky and it's much easier to get the whole mixture evenly spread throughout the pan.
2. After your rice crispies have cooled and aren't sticky any more, cut out shapes with cookie cutters. If your cookie cutters are plastic you'll probably need to go around the outside edge with a knife.
3. Prepare almond bark by heating it in the microwave according to package directions. Add a spoonful of shortening to thin the mixture. Dip one side of your shaped rice crispy treat into the chocolate. Lay on wax paper to dry.
These chocolate rice crispy treats are very sugary and perfect for a party or everyday dessert. They're fun to make and your kids can definitely help make and deliver them to neighbors this Halloween!