Today is the start of our Christmas giveaway! This giveaway is meant to give you some ideas about where you can find gifts for your family and friends this Christmas. I hope you benefit from these ideas! And just like with all my big giveaways, you can earn extra entries by blogging about this contest and linking with keyword phrases. Most of my winners earn extra entries, so increasing your chances really does pay off!
Okay, I like to start my giveaways off with a bang, so here's a pretty big and loud bang for you. Today's contest is for the Silhouette Digital Craft Cutter by QuicKutz! Today's winner will also receive 5 of their adhesive vinyl colors: dark pink, navy, light blue, teal, and green. Each roll of vinyl is 9 inches wide and 10 feet long, so you'll be set for a while!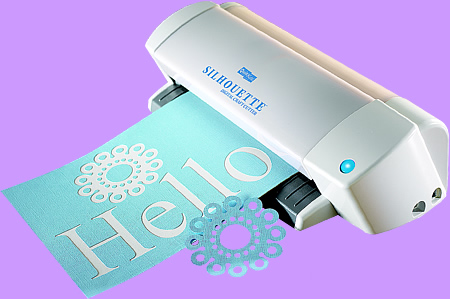 Here are some of my favorite features about the Silhouette Digital Craft Cutter:
You can cut your design any size between 1/4″ and 8 " tall and up to 39″ long. That's a pretty exciting range of possible sizes!
Because the Silhouette hooks straight up to your computer, you have access to all True Type fonts – your font possibilities are endless and FREE. I know I probably have hundreds of fonts, and that much freedom and selection in a digital craft cutter is pretty darn awesome.
Learning how to set up and use the Silhouette is easy – I felt comfortable with the program almost right away.
All your files/designs are stored on the computer in one place, so they're easy to access and you don't have to think about storage.
You can download designs from the QuicKutz website straight to your computer, so instant gratification! No waiting in line or having to go out in the snow to get a new design.
The Silhouette also cuts adhesive vinyl, and with an 8″ maximum height, a 39″ maximum length, and all of the fantastic QuicKutz designs, you can do some pretty fancy home decor stuff all on your own. The Quickutz vinyl comes in lots of bright and beautiful colors too!
You can create your own designs and cut them out. This is probably one of the coolest features of the Silhouette, especially if you're a talented artist. You can create and cut your own designs – a potential Etsy business!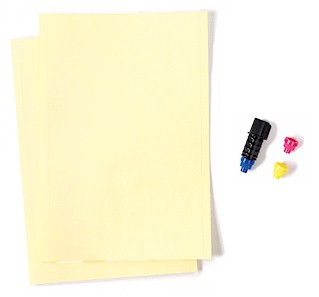 This is what the cutting mat and blade looks like. Each cutting mat is very sticky and lasts for a looong time. I love that the size is pretty much 8 1/2″ x 11″ because that's my new favorite scrapbooking format.
And the blade come with three different adjustment caps for cutting different thicknesses of paper. The blade is really easy to take in and out, so switching caps is no trouble at all. And I never have to cut anything twice – the blade is super sharp and as long as you use the right adjustment cap, you don't have to worry about your design not getting cut out all the way.
The first thing I ever printed off with my Silhouette was a long quote in a very small and intricate font. Every letter cut perfectly and I didn't have to do any parts over. The paper stay put and the end result was just what I had in mind.
I love that the Silhouette works through the computer, not just for the font reason, but I like to do all my journaling/titling at once. Having the Silhouette on my computer makes it that much more convenient to finish my pages with these final elements. I like to have the journaling done before I do the title, so I can move from one thing to the next without having to move all my supplies back to my craft table.
Overall, the Silhouette Digital Craft Cutter is a definite must have craft and home decor tool. It's easy and fun to use with sooo many options and possibilities. Girls, put it on your Christmas list!
Thanks, QuicKutz!
___________________________________________________________
Blog Giveaway Guidelines:
To enter this contest, leave a comment on this post between now and midnight PST on Saturday, December 13th.

You can earn additional entries for this contest, and I would strongly recommend doing so to increase your chances – it's easy!. To learn how to increase your chances of winning the Silhouette, click here.
One comment per person, and you must include your name.
This giveaway is only open to residents of the continental United States…sorry.
The winner will be randomly picked and announced in a new post on Monday morning.
If you have a product you would like Vanilla Joy to review and give away, email me at kelsey [at] vanillajoy [dot] com. Thanks!