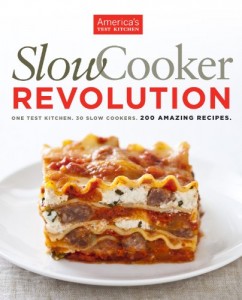 And the very lucky winner is …. Kim! She said, "I just got my first ATK cookbook and LOVE it! Everything I have made has been wonderful. My favorites so far are french toast and beef burgundy."
Send an email to kelseyatvanillajoydotcom BEFORE FRIDAY to claim your prize.
Congrats and THANKS to America's Test Kitchen!
THE PRIZE
One very lucky reader will win one of the most recent cookbooks from America's Test Kitchen – the Slow Cooker REVOLUTION.
MY REVIEW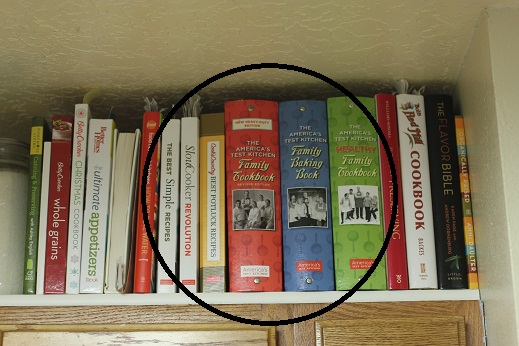 If you've been a reader of mine for any time at all, you know how I adore America's Test Kitchen. (I have the beginnings of a respectable collection, but there are many others I must acquire.)
The recipes are perfect every time. So delicious, straight forward, with an encyclopedia of knowledge in between ingredients and instructions.
I decided this year I wanted to use my crock pot more, because who wants to make dinner at 4:00? Not me. That's like the worst possible time of day to do anything.
So a crock pot. Make dinner at lunch time and have everything long since cleaned up when it's time to sit down and eat.
What a good idea.
Enter: America's Test Kitchen's Slow Cooker Revolution. Once I decided I needed a good, reliable crock pot cookbook, I checked the America's Test Kitchen bookstore and what-do-you-know, they have a brand new slow cooker cookbook!
ATK, to the rescue, as always.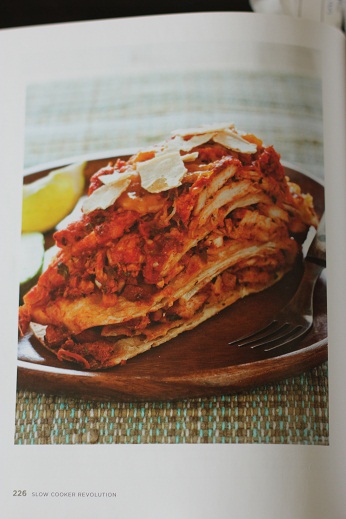 The first recipe I tried was the chicken enchiladas for Boyd's birthday this week, and…Yum. You might think crock pot enchiladas would be mushy and soggy, but you'd be wrong, at least in the case of this recipe.
The trick to these slow cooker enchiladas is to toast both corn and flour tortillas and use THEM BOTH in more of a layered lasagna type of enchilada.
Definitely different. Definitely delicious.
I had been searching for a really good red enchilada sauce recipe, and ATK's is the best I've found with onions, tomato sauce and paste, chili powder, cumin, and cilantro. It's spicy and not too tomatoey.
And guess what else I found? A green enchilada sauce recipe (that was my next recipe quest) in The Best One Dish Supper Recipes cookbook. I shall be trying these enchiladas with green sauce.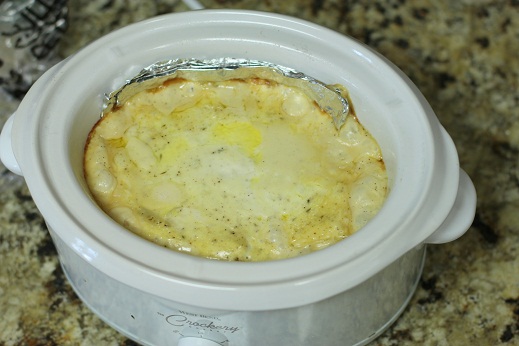 I also made the Scalloped Potatoes…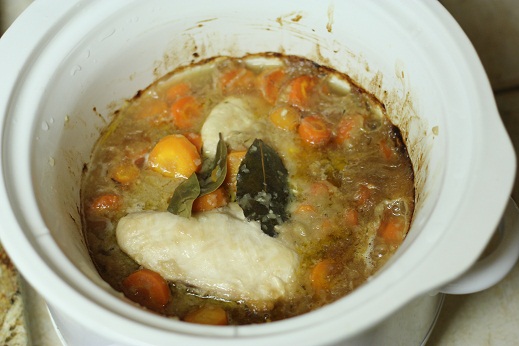 …and Chicken with White Wine, Tarragon, and Cream.
I'm no food photographer, but can't you just taste the deliciousness? I can and did until I was full enough to pop.
The thing about these America's Test Kitchen slow cooker recipes is that they require a little bit of prep with quality ingredients that make the whole dish taste like something you would eat at a restaurant. There is no "throw a can of cream soup in and call it good" which may be easy BUT IS NOT DELICIOUS.
The Scalloped Potatoes had MONTEREY JACK cheese (my new favorite), cheddar, cream, chicken broth, salt, pepper, thyme…the best scalloped potatoes I've ever had, including my Grandma's and that's almost a crime to say. (Please  don't tell her.)
The chicken sauce was good enough to guzzle…and I did.
If you're a stranger to America's Test Kitchen, don't be. Check out the website, bookstore, and Amazon, and add a few or all to your wishlist. Join the fan club and start cooking like you know what you're doing!
Thanks to America's Test Kitchen for sponsoring this giveaway!
GIVEAWAY RULES

Visit America's Test Kitchen
Make a comment on this post telling me your favorite products before midnight Sunday, March 6.
A winner will be selected and announced at the top of this post on Monday.
Only one comment per person unless you earn extra entries.
Giveaway open only to residents of the continental United States…sorry.
Winners must email me to claim their prize within 5 days.
EARN EXTRA ENTRIES
You may earn 1 extra entry each for doing the following (make a separate comment for each thing you do):
Facebook about the contest with a link back here
Subscribe to my feed
Sign up for my newsletter
Add my button to your sidebar
Comment on any non-contest post (must contribute to the conversation)
{These products were provided to Vanilla Joy for review purposes.}