{The winner of the $235 package of Clover sewing tools and supplies is…Baba! She said, "As much as I sew and I don't have any of these tools! How is that possible? The magnetic pin holder and the needle threader look fantastic. I haven't tried making my own bias tape yet, I have just been buying it, so this could really save some money."
Congratulations, Baba! You are going to have a great time with these tools. Email your address to me at kelsey[at]vanillajoy[dot]com to claim your prize. Thanks!}
Again, we have two giveaways today, so don't miss out on the first one below, downloadable patterns from YouCanMakeThis.com – they're fabulous!
THE PRIZE
One reader will win the following package worth $235 from Clover:
REVIEW
It's utterly impossible to review this many products in one post, but I'm going to try.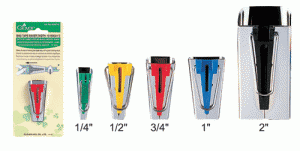 First, the bias tape makers that come in lots of different sizes. I am currently binding a fleece blanket with bias tape that I made with the Clover bias tape maker. I'm loving being able to save money making my own use matching, soft fabric rather than that stiff stuff you get in the premade, store-bought version.
If you cut your strips accurately, you're going to get awesome bias tape. And the Clover bias tape cutting ruler is a great tool for accurate cutting. The slot in the middle of the ruler ensures that your cut is perfectly straight, and the markings on the ruler help you measure easily. Figuring out exactly how wide to cut your fabric can be tricky, and this ruler helps simplify that whole step a ton.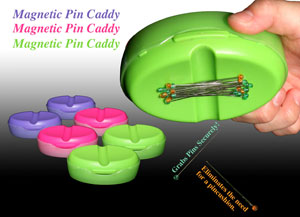 The second product in the prize package that I could not live without is a magnetic pin caddy. I'm forever dropping pins, and with this magnet, those lost pins are easy to find and pick up. My favorite part is that you don't have to drop the pin exactly on the caddy – if you're close, the magnet sucks it right up.
I love this thing. They're inexpensive, so if you sew and don't have one, you really should get one. This pin caddy comes with a lid too, an added bonus.
The Clover desk needle threader is another must-have. I think this tool will preserve my good eyesight, or at least my nearsightedness, for a few extra years. With this tool, you put your needle in the needle slot,  your thread in the thread slot, push the button on the right, and pull up your threaded needle. I love how quick this tool makes the often frustrating needle threading process. It's no good to be frustrated before you even start sewing… the desk needle threader helps you get ready to work!

Besides all the fancy special stuff, Clover also makes high quality basic sewing tools. Part of this package are three of the most basic things every seamstress needs – good fabric scissors, fine quilting pins, and a measuring tape. The scissors are comfortable to hold and sharp as can be. Having a new pair of scissors is kind of like getting glasses that you've needed for a long time. It changes everything! The pins are strong and sharp, and the tape measure is great as well. I like how the measurements start at the very beginning, behind the little metal clasp. My current tape measure starts after the metal thing, and it has caused me serioues measuring problems in the past…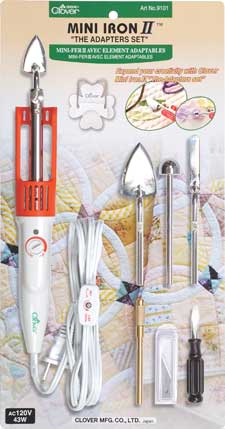 Another special product from Clover is their Mini Iron. They have several different mini irons, and the winner of the giveaway will get "The Adapter Set" with several interchangeable tips to use for sewing, quilting, doll making, and even paper crafting. I love to use the Mini Iron to make sure  the ribbon for my pages and cards is flat and crisp.
The mini iron is great for so many craft applications – think of all those little corners in pillow covers, doll clothes, felt food, and lots of other projects that are impossible to get at unless you have the mini iron.
The mini iron heats up quickly and is so handy to have around!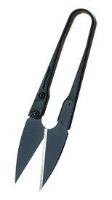 Lastly, the thread clipper is another tool I have right by my sewing machine at all times. I love it because the blade is super sharp and cuts thread cleanly, making threadingneedles (when you can't use the desk needle threader) lots easier. These scissors are faster to pick up and use than regular scissors, which is great. I also love these scissors because I'm not tempted to carry them off and lose them. Having specific thread scissors helps me keep better track of them!
I could go on about the rest of these great products! I look forward to all the fun sewing projects I'm planning with all these fun tools that I will share with you, especially since my baby is coming soon! I have lots of fun things planned before the big day arrives!
GIVEAWAY GUIDELINES

Come back here and leave a comment before midnight Wednesday, March 18.
A winner will be selected and announced at the top of this post on Thursday.
Only one comment per person unless you earn extra entries.
Giveaway open only to residents of the continental United States…sorry.
EARN EXTRA ENTRIES
You may earn 1 extra entry each for doing any of the following (5 total extra entries possible). You must leave a separate comment for extra entry.
Blog about the contest with a link back here
Subscribe to my feed
Sign up for my newsletter
Add my button to your sidebar
Comment on any non-contest post (must contribute to the conversation)
GOOD LUCK and THANKS, Clover!