{The Glue Dots winner is Connie C., who said, "Glue dots are amazing! I hadn't heard of the poster ones until your newsletter. Sounds like a perfect choice for those school projects using presentation boards!"
Email your address to me at kelsey[at]vanillajoy[dot]com to claim your prize. CONGRATULATIONS!}
Today's second prize is for some more great adhesive products from Glue Dots! You never can have too much glue or too many different kinds of adhesives. They all have their place and they get used up so fast!
REVIEW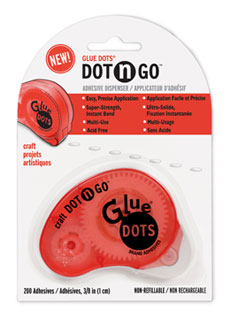 The first Glue Dots product I got to try out were the craft DOTnGO Glue Dots. First of all, I love anything in a dispenser because it just makes it that much more convenient and keeps my hands from getting sticky.
The craft dots are ideal for paper crafting – they're small at 3/8″ each, and there are 200 little dots on each roll so you won't be needing a refill for a while. They're good and sticky and the stickiness lasts – with lots of different types of adhesives I've tried, stuff comes unglued after it has been in the book for a while. These Glue Dots stay put as far as I can tell!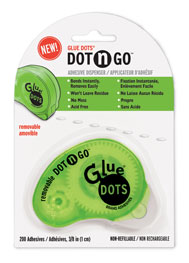 The second type of Glue Dots were the removable kind. Having a removable adhesive around is really handy because sometimes you just need something to stick for now to see how it will look. Frankly, I don't mind using removable Glue Dots all the time because you never know when you're going to change your mind about something. It's nice to know that you can change things without having to redo.
These removable Glue Dots are great because they do stick, but you can lift them without finding any yucky residue left behind. Again, the dispenser is awesome – it fits so nice in your hand!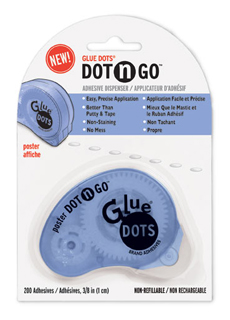 And lastly, I got to try out the poster Glue Dots. Let me tell you, the poster Glue Dots are useful for lots of things besides crafting! All these adhesive products are great for household uses, but especially this one because it has such a strong bond.
The poster Glue Dots are stronger than the other types of adhesive and can hold up heavier things, so they're great for hanging posters and pictures, although I like to use them for heavier types of embellishments in paper crafting as well. The poster Glue Dots are probably the most multi-purpose adhesive, so if you need to use one adhesive for lots of different things, go with this one.
Before trying out Glue Dots, I was using a basic adhesive dispenser that had a continuous stream of double sided adhesive. I really like the whole DOT idea because you don't waste as much in between. I also like that each little bit of adhesive is exactly the same size and shape, so I know each part of my project is getting adequate coverage.
THE PRIZE
One reader will get one package of the following 3 types of Glue Dots adhesives:
Craft DOTnGo Glue Dots
Removable DOTnGO Glue Dots
Poster DOTnGO Glue Dots
Each dispenser has 200 adhesives that measure 3/8″.
GIVEAWAY GUIDELINES
Visit GlueDots.com and browse their products.
Come back here and leave a comment before midnight Tuesday, March 17.
A winner will be selected and announced at the top of this post on Wednesday.
Only one comment per person unless you earn extra entries.
Giveaway open only to residents of the continental United States…sorry.
EARN EXTRA ENTRIES
You may earn 1 extra entry for doing any of the following (5 total extra entries possible). You must leave a separate comment for each one.
Blog about the contest with a link back here
Subscribe to my feed
Sign up for my newsletter
Add my button to your sidebar
Comment on any non-contest post (must contribute to the conversation)
GOOD LUCK and THANKS, Glue Dots!