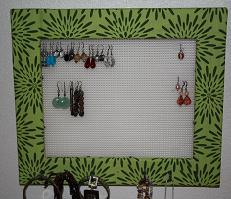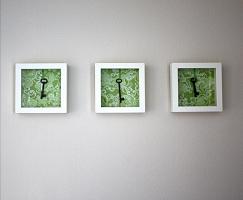 After the giveaways are all over (I might cram them together a bit more so it doesn't drag on quite so long…we'll see. If you think that's a good idea, let me know.) I have some great sewing and other craft tutorials planned. Here are some of the projects I've been working on:
Fleece Blanket Binding
Handmade Crib Sheets (Flat and Fitted)
Jewelry Organizer (pictured)
Skeleton Key Wall Decor (pictured)
I'll also be putting together some videos on basic sewing techniques and skills like sewing a mitered corner, making and using bias tape, sewing a button, and more, so STICK AROUND! I'm going to be very mad at you all if everybody just stops visiting after the giveaways are over. I have other good stuff on this blog besides giveaways!
One thing I've been working on for a while now is putting together a price list for household items of various brands so I can more easily comparison shop. I'll be sharing my list of prices with you so you can know when a sale is really a sale. I think that will be very useful for everyone!
And I've tried some fabulous recipes that I'll be sharing. Basically, April is going to be a great month for crafty tutorials and other great tips and tricks. And I'm working on my next giveaway already, a huge giveaway with a toy/kid/baby theme. So exciting!
{photo taken with the Canon Digital Rebel XSi}