contributed by guest writer Jeanie Barcus
Ah, the mantel: the place where stockings are hung and holiday party guests congregate in front of a
blazing fire. Dress it up this year with these creative ideas for festive mantel decorations.
Go Au Naturel
Incorporate nature into your décor by bringing the outside in. Hang an evergreen garland along the
mantel and scatter branches or holly leaves on top. Fill in with pine cones, red berries, or poinsettias.
Birds' nests full of ornaments instead of eggs or vases full of cut branches tied together with holiday
ribbons are other variations on this theme.
Make a Scene
Turn your mantel into a miniature holiday village with a collection of tiny, lit houses and figurines,
or display a beautiful nativity scene right at eye-level. Design a winter wonderland complete with
snowmen, snowballs and a garland hung with glass or plastic icicles. Use felt cut to size or a scattering of
fake snow beneath your creation.
Make It Look Good Enough to Eat
Nothing says, "holidays," like an assortment of treats. Fill candy dishes with wrapped peppermints or
foil-covered chocolates. Don't have enough candy dishes to cover the mantel? Use jam jars, martini
glasses, and even empty glass ornaments to display your sweets. String some candies into a garland to
use in front of the mantel to finish off the look. As an added bonus, your candy dishes will be out of the
reach of kids and pets but easily accessible to grown-ups.
Go Monochromatic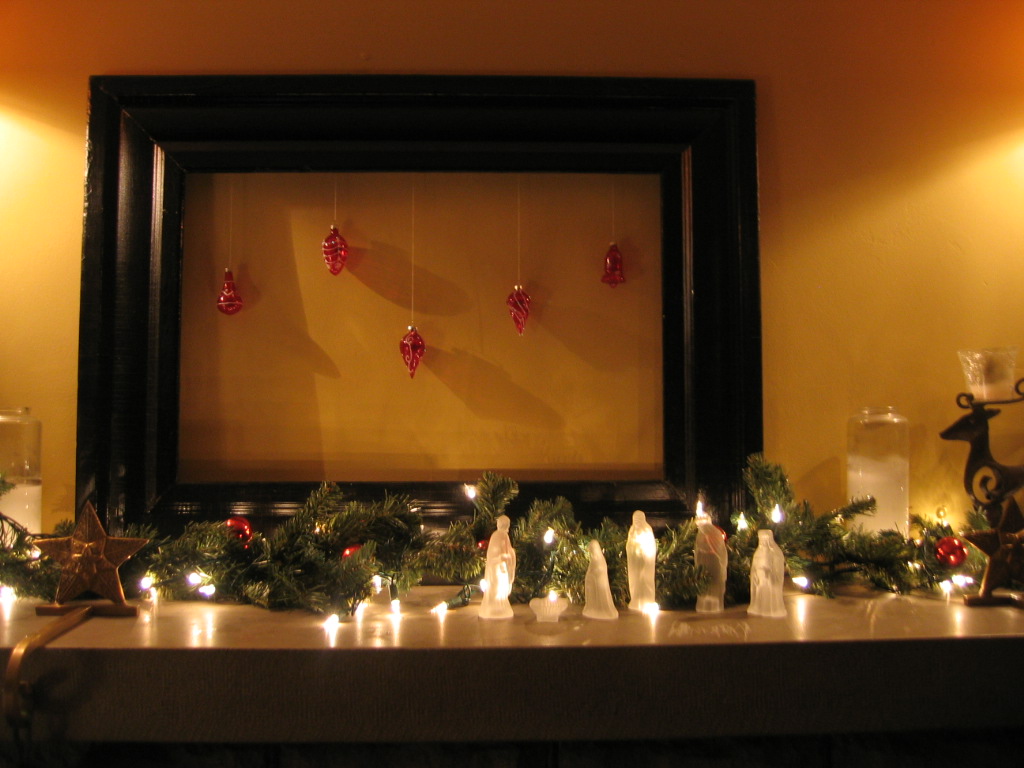 Choose a favorite holiday color and pile it on. Combine garlands, stockings, figurines and ornaments that
match to make your mantel into an eye-catching block of color this season. Weave a strand of same-
color lights through it all for an extra-special touch.
Light It Up
Make your mantel a focal point and cast a soft glow over your holiday gathering by covering it with candles. Hang white twinkle lights in front of the display for even more ambiance, and place mirrors or shiny metallic ornaments of different sizes and shapes in and around the candles to reflect their soft light. Consider trying flameless candles for a truly worry-free display.
Spell It Out
Incorporate a holiday message into your décor by spelling out holiday phrases or good wishes on your mantel. Use store-bought wooden letters or make your own with cardboard and paint. Kids' alphabet blocks work, too. Make a cheerful garland by affixing paper letters to a ribbon to spell out joyful tidings,
and incorporate your custom cards for Christmas up there as well.