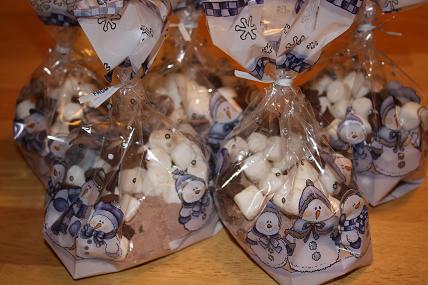 Homemade hot chocolate mix gift bags are a great neighbor gift this Christmas. The mix is easy to make and filling those precious bags and delivering them is a fun activity for the whole family. (I will be tying these with something other than a twisty, it was just the best I could do in the moment…)
Homemade Hot Chocolate Mix
3 c. nonfat powdered milk
2 1/2 c. powdered sugar
1 c. unsweetened coca powder
1 c. powdered nondairy creamer
1 c. mini marshmallows
1/2 c. mini milk or semi-sweet chocolate chips
Stir together all powdered ingredients. Divide among bags and top with marshmallows and mini chips. Tie off bag with ribbon, robe, etc.
Mix 1/4 c. mix with 3/4 c. to 1 c. boiling water. Stir until chocolate chips begin to melt.
Decide how many servings you want in each bag and multiply that number by 1/4 to get how many cups of mix. Remember to include the instructions with the bags so your friends know how much water to put in.
You can also put the drink mix in a little Mason jar with ribbons tied around the ring or pretty paper glued to the lid. You can also include a "chocolate spoon" for stirring. Melt chocolate chips, dip plastic spoon in the melted chocolate, and let dry. Put one or several chocolate spoons in your gift bag.
Have fun drinking your own hot chocolate and giving some away!
{recipe from Maceys Little Theatre class, November 14, 2008 and photos taken with a Canon Digital Rebel XSi}