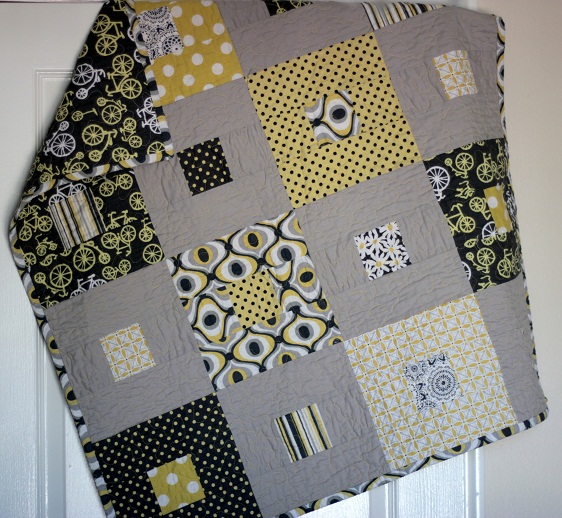 I love Michael Miller's Citron Gray collection so much…I bought some more fabric to make ANOTHER lap quilt AND a baby quilt. I finished this little 36″ x 36″ quilt for Linus specifically to use in the car seat when we're out and about.
I love this simple pattern – here's basically what I did:
Cut 2 – 3.5″ x 9.5″ rectangles and 2 – 3.5″ x 3.5″ squares out of enough fabrics to have 16 finished blocks that measure 9″ square
Arrange them on my design wall and pieced together
Quilted using a stipple stencil from Amazon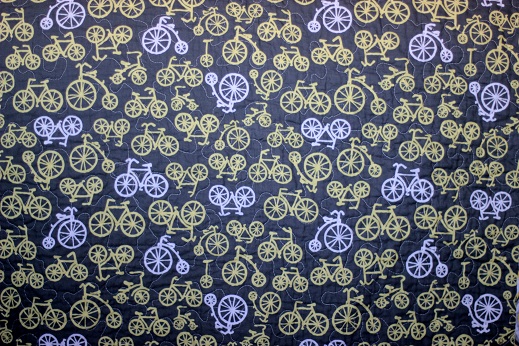 I ordered the extra fabric from Fabric Depot, paradise for quilters in Portland, Oregon. My brother used to live really close by…but I had to order this stuff online. Shipping was cheaper than a plane ticket, after all. But believe me…I've considered buying plane tickets to shop there in person. Can't convince my husband the wisdom in that yet however…They have great sales, like 35% off everything most of the time. I wish FD would come to Utah…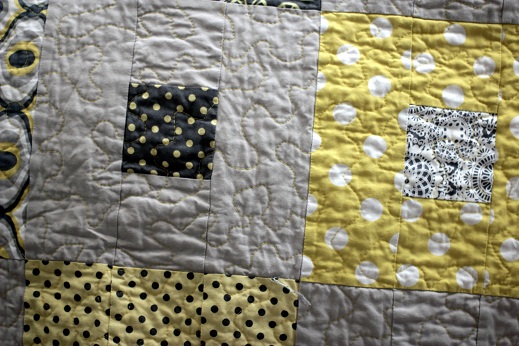 This was my second experience machine quilting following lines traced from a template, and I'm hooked. I wish I could do decent stipple on my own but I can't yet and I might never be able to.
I started out using the Pounce Pad to mark, but the white chalk wasn't showing up so I switched to my Trace'N Mark pen which worked beautifully.
The hardest part for me ( and I assume most other people too) about machine quilting is getting my stitches to be a consistent length and my tension exactly right. This quilt is definitely not perfect – I have some skipped stitches and a few spots of funky tension on the back, but overall I think it turned out pretty darn great.
I'm going to do a wonky lap quilt with the rest of the fabric. After I make Halloween costumes that is…