Last weekend we took our kids (5, 3, and 1) for their first visit to Chuck E. Cheese's for an end-of-summer family outing and they loved it!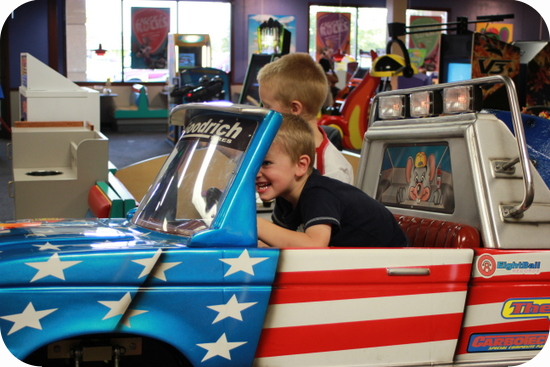 As soon As we walked in the door their faces had that I'm-so-excited-I-can't-be-still-or-stop-asking-if-I-can-play-RIGHT-NOW looks. I love that.
The first thing you do when you go to Chuck E. Cheese's is get a little stamp on your hand. Everyone in our group got one and I didn't have any idea what it was for until I tried to go out to the car with Linus to get something we'd forgotten. Everyone in our group had the same number stamp on our hands and as we left they checked our hands to make sure we didn't have any extras – it's a brilliant child safety strategy.
I was really concerned at first because I was worried about losing track of my kids and someone running off with them, but this safety check point totally put my mind at ease. I knew no one was going to get out of the building unnoticed and certainly not with one of my kids.
The ink shows up under the blue light that's only in the Kid Check area so creepers can't peek at your number and reproduce it for child nabbing purposes. Whew! I honestly felt like we were all safe and I didn't have to worry. I never feel like that!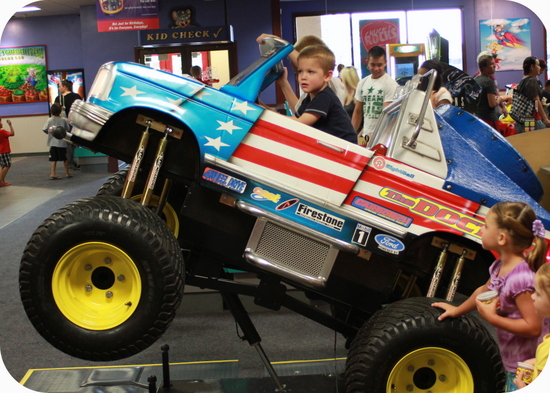 Right away I noticed all the games required only 1 token each. This was my first time at Chuck E. Cheese's too and I was prepared for the ridiculous carnival type ride fares…but 1 token! All games!
Game tokens are $.25 each or less, making Chuck E. Cheese's a great place to go for a play group with friends, as a whole family, or on a daddy/daughter date!
So prices are great but what about germs? Mounted on a little half wall just in front of the games – Hand sanitizer! I saw dispensers throughout the restaurant and wanted to kiss them all, but that wouldn't be very sanitary…so I didn't. But YES! I worried less about germs and more about having fun!
We ordered our pizza (half Canadian bacon, half barbecue chicken) and got busy playing while we waited to eat. This monster truck was our introductory game and it was perfect for two rowdy little boys. They were a little scared but mostly thrilled. I like a little fear in their fun, there's more caution that way…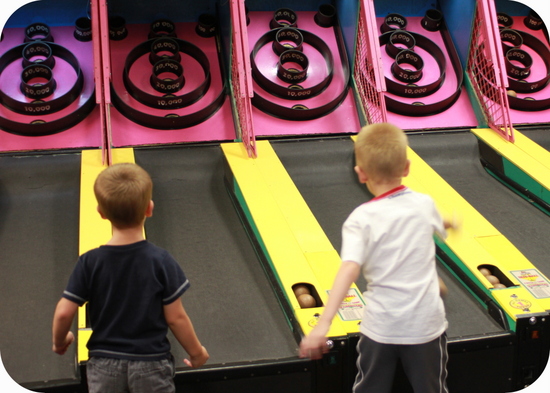 We were armed with 30 tokens, more than enough for us to try almost everything out and go back for more of our favorites.
Boyd and I hit up the Basketball Game at the very end and were there for…a few minutes…while Elliot and Gus played on the little playground. We ran out of tokens on the basketball game…oops…sorry kids!
I was pleasantly surprised at the variety of ages the games served – there were games for every age group and we saw kids of all ages having a great time.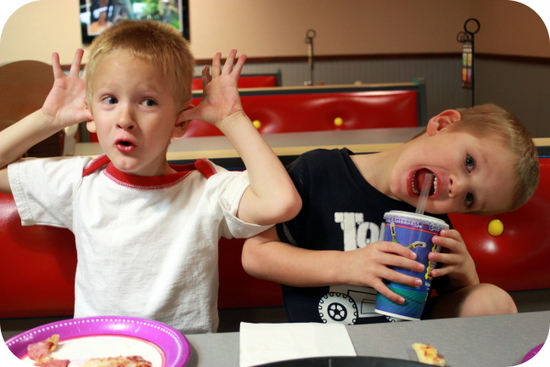 Meal times are usually a struggle…they're kids and kids are trouble at the table! But honestly, these two ate their pizza (two pieces each, a Chuck E. Cheese's miracle! and with a tiny bit of silliness…) in record time and wanted to get back to the games!
Boyd and I were impressed with the pizza – the barbecue chicken was really good. It comes with big chunks of red onion and green peppers – the veggies had great flavor and I loved the big chunks. Yum! The Large size we ordered was perfect for our family of 4 1/2.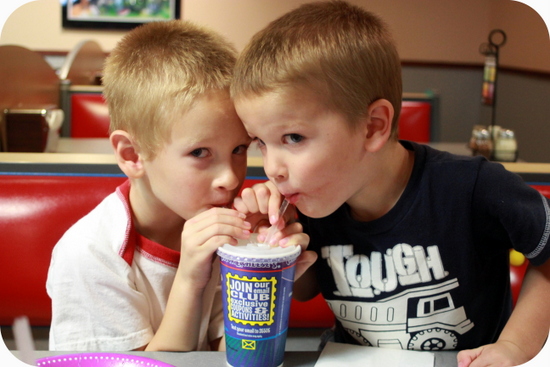 These two are stinkers, yes, but sweet stinkers and such good friends! They were inseparable throughout the evening and had such a fun time together.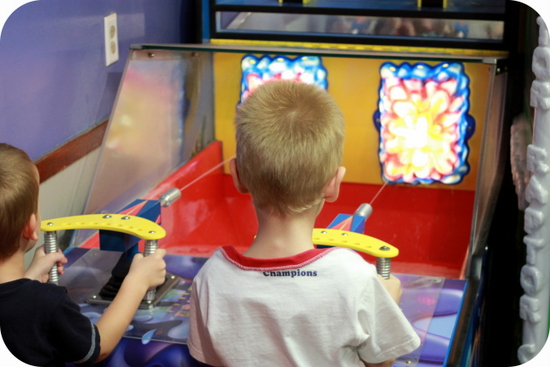 This game was Gus' favorite – you shoot water in the center of that volcano looking thing. The longer you keep the stream of water hitting dead center, the more tickets you get! Turning in all the tickets at the end was another highlight and a first for my boys. We had enough tickets to get 14 SweeTart candy rolls. What a way to end the night! We had an affordable and fabulous time – we will be visiting again soon for sure!
For more information, visit Chuck E. Cheese's website and stay connected by liking Chuck E. Cheese's page on Facebook.
WIN $100 CHUCK E. CHEESE'S GIFT CARD! Why does your family love Chuck E. Cheese's? Leave your answer in a comment below to enter to win!
Rules:
No duplicate comments.
You may receive (2) total entries by selecting from the following entry methods:
Leave a comment in response to the sweepstakes prompt on this post
Tweet (public message) about this promotion; including exactly the following unique term in your tweet message: ""#SweepstakesEntry""; and leave the URL to that tweet in a comment on this post
Blog about this promotion and leave the URL to that post in a comment on this post
For those with no Twitter or blog, read the official rules to learn about an alternate form of entry.
This giveaway is open to US Residents age 18 or older.
Winners will be selected via random draw, and will be notified by e-mail. You have 72 hours to get back to me, otherwise a new winner will be selected.
The Official Rules are available here. This sweepstakes runs from 9/4/2012-10/4/2012.
Be sure to visit the Chuck E. Cheese's brand page on BlogHer.com where you can read other bloggers' reviews and find more chances to win!