The giveaway this month will be all products that will help you in your kitchen and pantry. We have some goodies from Oxo, Wilton, and Shelf Reliance.
To give you a little preview of a few of the great prizes Wilton will be giving away, I made the world's yummiest cinnamon rolls. Since I can't actually share a cinnamon roll with you, sharing the recipe and process is the next best thing.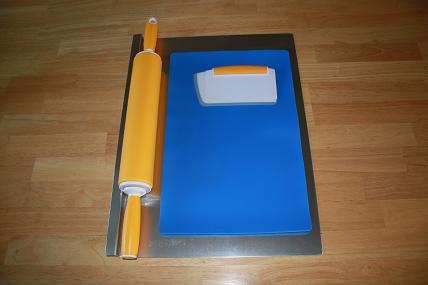 These are just a few of the great Wilton products up for grabs in the  giveaway next week – a silicone baking mat, rolling pin, dough scraper, and cookie sheet. I've made these cinnamon rolls a million times before, and these 4 products have made the whole process so much easier! I didn't know I needed a new rolling pin until I used this one – it's heavy and very large, so rolling out the dough was super fast. And it's silicone so you can dust it with flour to keep the dough from sticking and it works beautifully. Love it.
________________________________________________________
Top Secret Cinnabon Cinnamon Rolls Recipe

Rolls
2 T yeast
1 c warm milk
½ c sugar
1/3 c oleo, melted
1 t salt
2 eggs
4 c flour
Filling
1 c brown sugar
2 ½ T cinnamon
1/3 c oleo, melted
nuts, raisins
Icing
1 stick oleo, soft
2 oz cream cheese
1 ½ c powdered sugar
½ t vanilla
1. For rolls, dissolve yeast in warm milk in large bowl.
2. Add sugar, oleo, salt, eggs, and flour and mix well.
3. Knead dough into a large ball. Cover and let rise about 1 hour.
4. Roll out on floured surface to about 21×16 and about ¼ inch thick.
5. Preheat oven to 400.
6. For filling, combine cinnamon and brown sugar, spread oleo over surface and sprinkle with cinnamon mixture.
7. Roll dough from 21 inch side.
8. Cut into 1 ¾ inch slices and place in a lightly greased pan. Bake for 10 minutes or until lightly brown.
9. While rolls bake, combine icing ingredients and beat until fluffy.
10. When rolls slightly cool, coat generously with icing.
Makes 12
________________________________________________________
Top Secret Cinnabon Cinnamon Rolls Tutorial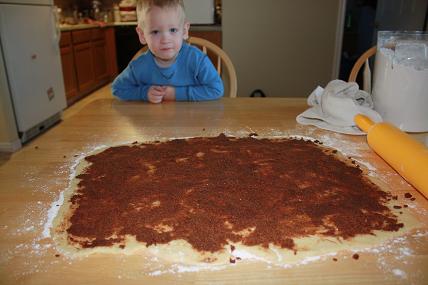 After mixing the dough and letting it rise, roll the dough out on a Wilton silicone baking mat (or a well floured surface) with your new Wilton rolling pin. Roll the dough until it's a large rectangle, 1/4″ thick.
The next thing to do is spread the filling over the dough. The recipe actually instructs you to spread the butter over the dough and sprinkle the cinnamon and brown sugar over that, but I like to mix all three ingredients up and then spread that mixture over the dough. Spreading is a little tough, though not too bad with a spatula, and the end result is phenomenal. It's much gooier and more delicious this way.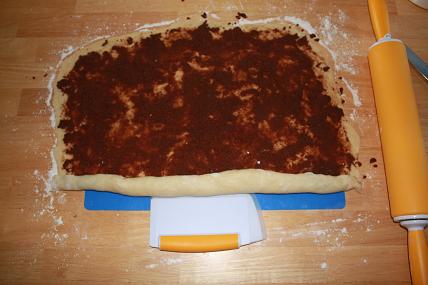 Roll the dough into a log from one of the long ends of the rectangle. The Wilton dough scraper also made this process much easier than it's ever been for me. Roll it tight and pat it down to be a uniform shape.
Finally, cut your log into pieces 3/4″ thick and lay on your baking sheet.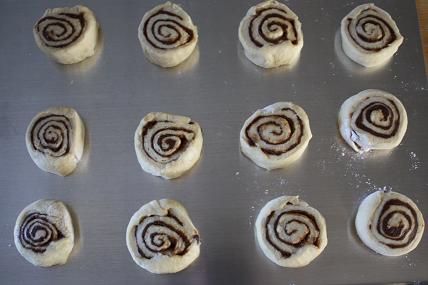 Bake in the oven at 400 degrees for 10 minutes, cover with cream cheese frosting, and enjoy!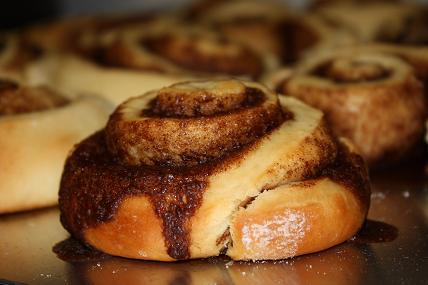 Ta-Da!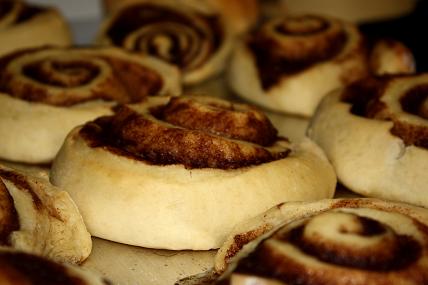 Voila!
________________________________________________________
I've written about these cinnamon rolls before because they're so delicious. They're easy to make now too, with a few basic baking products from Wilton. Enter the giveaway, but if you're not the lucky winner, you can purchase any of these fabulous products at any craft store. Good luck to you all in the giveaway!
{Pictures taken with a Digital Canon Rebel XSi}