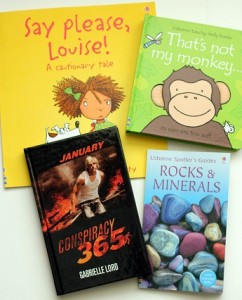 THE PRIZE
This week's giveaway is for a set of 4 Usborne Books from Hollsbooks.com! One reader will win the following titles:
Say Please, Louise! A Cautionary Tale by Cox Roxbee
That's Not My Monkey! (Touchy Feely Board Books) by Fionna Watt and Rachel Wells
Conspiracy 365: January by Gabrielle Lord
Usborne Spotter's Guide to Rocks & Minerals by Allan Woolley and Mike Freeman
MY REVIEW
We love books and have been really enjoying these 4 from HollsBooks.com and Usborne. Usborne books are sturdy and so much fun to read! Here's what we thought about each book.
Say Please, Louise!
This is a great story about a little girl who NEVER says please or thank you and instead demands and yells and is sassy. Her parents try to teach her and she just doesn't listen, so she ends up learning the hard way. You'll have to read it to find out what happens!

This books is part of Usborne's "Cautionary Tales" series. Picture books are powerful tools to use to teach proper behaviors and manners, and other books in the series are
Don't Be A Bully, Billy!

Give That Back, Jack!

Don't Tell Lies, Lucy!

Don't Be Greedy, Graham!
The first thing I noticed when I picked this book up was the thick soft cover. Most soft cover children's books have very flimsy covers and thinner pages, but this book has a heavy weight, cardstocky feel that will make the whole book hold up better over time, and the pages are as thick as a hard cover book's would be.
We can really relate to Louise, and hopefully my boys will learn from her and always say Please and Thank you!
That's Not My Monkey
This has been the favorite of the four books, and my boys are always either reading it together or fighting over it.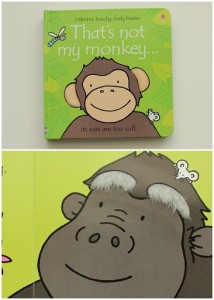 The Usborne Touchy-Feely series is one of my favorites because of the reading/tactile combo. There are pages and pages of these kinds of board books at HollsBooks on a wide variety of subjects. The touchy-feely board books are thick and sturdy, perfect for those clumsy baby hands.
This is also the first book I think I've seen that begins on the cover! I love how they use the cover to get in one more touch.

Each page has a monkey part to touch – smooth feet, velvety tail, hairy eyebrows, fuzzy tongue, and finally a fluffy tummy! Each texture is so different and so fun to touch! We'll have to check out some other books in this series for sure!
Usborne Spotter's Guides to Rocks & Minerals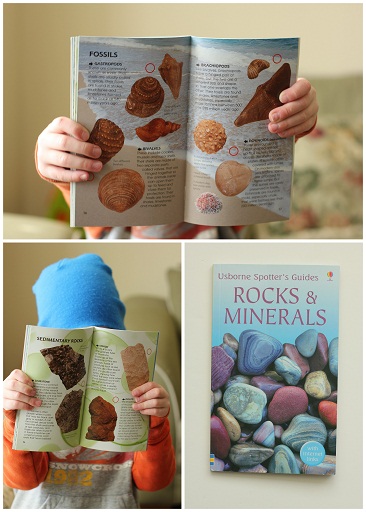 For older children, Rocks & Minerals is a great educational and interactive book perfect for a field trip! We've gone rock hunting a few times with family, and this would be the perfect book to take along and identify what you find.
The book defines and gives examples of igneous rocks, sedimentary rocks, metamorphic rocks, fossils, minerals, and more aboutthe planet and solar system.
There's also a list of interactive websites, including an interactive video created by the Smithsonian National Museum of Natural History with information about gems and minerals, plate tectonics and volcanoes, rocks and mining, and the solar system.
HollsBooks has a great selection of educational and interactive books like this one on a variety of interesting subjects.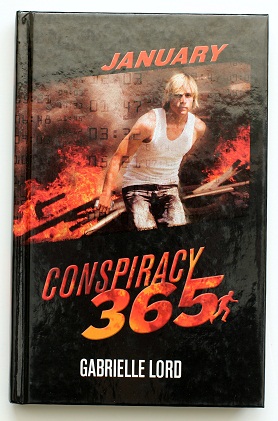 The last book we got to review is this one, and I haven't had a chance to read it yet but the whole series sounds very interesting.
From Goodreads: "On New Year's Eve, Cal is chased down the street by a staggering, sick man with a deadly warning…"They killed your father. They'll kill you. You must survive the next 365 days. Hurled into a life on the run the 15-year-old fugitive is isolated and alone."
There are 12 books, one for each month, and it sounds very exciting! I'll let you know how it goes…
Thanks so much to HollsBooks.com for sponsoring this week's giveaway!
GIVEAWAY RULES
Visit HollsBooks.com
Make a comment on this post telling me your favorite book before midnight Sunday, February 27.
A winner will be selected and announced at the top of this post on Monday.
Only one comment per person unless you earn extra entries.
Giveaway open only to residents of the continental United States…sorry.
Winners must email me to claim their prize within 5 days.
EARN EXTRA ENTRIES
You may earn 1 extra entry each for doing the following (make a separate comment for each thing you do):
Become a follower on hollsbooks.blogspot.com
Facebook about the contest with a link back here
Subscribe to my feed
Sign up for my newsletter
Add my button to your sidebar
Comment on any non-contest post (must contribute to the conversation)
GOOD LUCK and THANKS!
{These products was provided to Vanilla Joy for review purposes.}