Advent (from the Latin word advenio, meaning "to come", "the coming of Christ our saviour") is a holy season of the Christian church, the period of expectant waiting and preparation for the celebration of the Nativity of Christ, also known outside the Church as the season of Christmas." [From wikipedia.com] Advent begins on the fourth Sunday before Christmas and ends on December 24.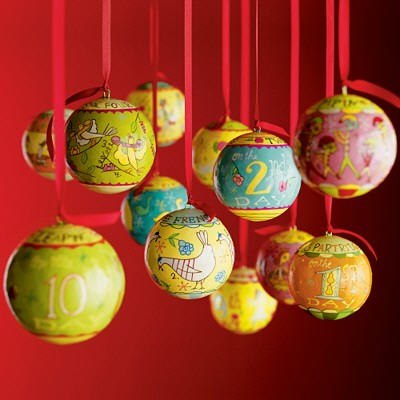 "Advent calendars" are popular items for many families and become a traditional way to celebrate Christmas as a family. I had never heard of an advent calendar before a few years ago, but basically, an advent calendar's purpose is to countdown until Christmas and to make the holiday season fun for kids.
You can easily make your own advent calendar, which doesn't really have to look like a calendar at all.
Advent Calendar Ideas
1. Wrap up 25 little boxes and put a little surprise in each one. For example, you could put candy, little toys, or just a piece of paper stating what that night's activity will be ("Read Jingle Bells by Iza Trapani," or "Go look at Christmas lights," or "Bake and decorate sugar cookies to deliver to neighbors." You get the idea…) Each night a member of the family gets to unwrap a box and share the contents with the family.
2. Hang 25 Christmas socks on a string with clothespins (see picture above from marthastewart.com) and put your activities or treats inside the socks.
3. Put your advent activities in festive envelopes and have them mailed to your house, one to arrive each day.
All these ideas could be used in conjunction with each other so be creative and have fun!
Here are some interesting articles about advent.