Every time I go to Roberts, I'm amazed at all the cute scrapbooking stuff by Making Memories. I am really a sucker for craft supplies – as my sister-in-law says, I'm constantly in the business of collecting even though I don't have a lot of time to actually scrapbook. But I am pushing it up higher on my list of free-time-priorities, so I'm making some progress.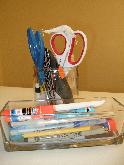 While I don't have a lot of time for just scrapbooking, I'm constantly working on some craft project. I have so many different craft supplies – stuff for sewing, bookbinding, scrapbooking, etc. I had all my tools/supplies in separate containers (2 of them are pictured at left), which was frustrating because there are several tools I use for all types of projects. I was constantly moving those tools back and forth, losing them, and kind of going crazy with the disorganization of my craft tools.
| | |
| --- | --- |
| | |
And then. I found. Something wonderful. Making Memories has a large desktop carousel for craft organization that is WONDERFUL At first I thought it was a little too big and would take up too much room on my table, but after I got all my tools organized in one place, it actually took up less space than all my separate containers had before. The slots are just the right size and height for all my stuff, and the little drawers around the bottom of the carousel have magnets on the ends so they stay put – brilliant! I really love the desktop carousel. If you're like me with a million different hobbies, it's a perfect storage solution. And as you can see, I have room to grow! There are a few extra slots at the back that will hopefully soon house some more wonderful tools.
Here are some other favorite things by Making Memories that are on my wish list: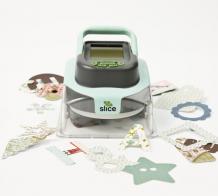 I don't know if you've heard about their new Slice machine, but it looks really awesome – a crafter's dream! It's the first cordless digital design cutter that is small and compact, weighs only 2 pounds, and is cordless. Plus the design templates are adorable and I can just see them on my scrapbook pages!
Of course, Making Memories also has great embellishments, decorative paper, albums, tools, and absolutely anything else you might need for scrapbooking/crafting. All this talk about scrapbooking makes me want to go do it. Catch ya later.