I love Costco for a few reasons, but the biggest one is their samples. Our Costco doesn't have a ton of samples, but the ones they do have are really yummy. If you go at the right time you don't have to make yourself lunch at home!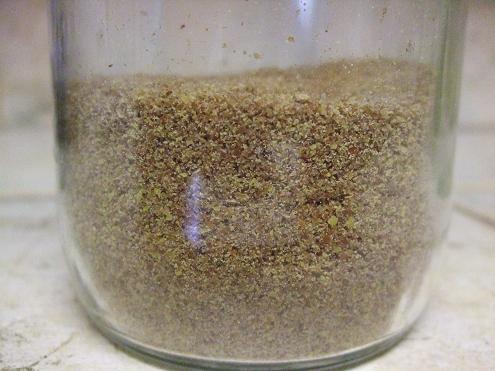 Last time we were there they were doing yogurt with milled flax seed. I've tried a few different recipes that call for milled flax seed, and I usually throw it in my banana bread batter just to get the additional healthy fats, protein, and iron, but I never thought about putting it in yogurt!
Yogurt is one of the few foods that Joel will consistently eat, and I got a little sample cup for him at Costco, which he devoured. Yogurt is pretty healthy since it provides 8 oz. of dairy (and babies are supposed to have 20 oz. per day) and lots of protein. I could do without the sugar, but overall I feel good about giving yogurt to Joel. Adding the milled flax seed makes that little snack highly nutritious and delicious!
The great thing about milled flax seed is that it doesn't really have a taste, so you can easily sneak it into things without your child knowing. It does add a different texture, but I think most babies don't mind texture – they eat wood, rocks, and other non-food items, so a little lumpyness in their yogurt ain't no thang.
You could put the milled flax seed in yogurt, applesauce, any pureed fruit or vegetables, macaroni and cheese, banana bread/other sweet breads, muffins, etc. Because it doesn't have a distinct taste, you really can put it in anything. And it's great not just for baby, but for the whole family!
In Related News: Great Nutrition Ebook that debunks mainstream views.