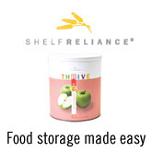 I totally forgot that Shelf Reliance was providing 3 Cansolidators for our giveaway last week, and I only announced 1 winner – so sorry!!! Here are the other two winners:
1. Heidi, who said, " This is awesome!! A great way to keep your food storage organized! I would LOVE this and would recommend it to EVERYONE!!!"
2. Megan LeBaron, who said, "I would love any of The Pantry or Ready Racks!"
Congratulations to our 2 additional winners, and thanks again, Shelf Reliance!