I just got an iPhone 4s a few months ago and I'm still totally blown away at the things that little rectangle is capable of. Holy apps!
I just tried out a really fun new one from Band-Aid – it's downloadable in the Apple App Store for free and is a fun and funny way to deal with the little bonks and bumps that all kids get.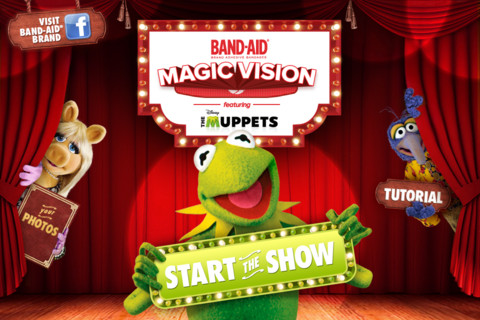 Here's what you do:
The three characters all do something different – Kermit sings a song and swings back and forth when you move your phone from side to side. Mrs. Piggy poses for the camera on the red carpet – click the little camera button to take a picture of her! And our favorite, Gonzo, gets stuck to the screen and you have to shake the phone to get him off. So fun!
My kids weren't hurt when we tried out the app, but they were grumpy and hungry. Their favorite Muppets characters coming to life made them forget all about their stomachs. They were laughing and so into shaking the phone and moving the characters all around.
Gus and Elliot's favorite thing about the app was how the characters responded to the movement of the phone. The fake glass that Gonzo is stuck to gets more and more shattered the more you shake the phone until finally he's free! My boys loved it.
The app also uses Augmented Reality technology so the real-life surroundings are visible on the screen behind the Muppets character. So cool! Daddy was hanging out with Kermit! Or so they thought…
This app is available for the iPhone 4, 4s, iPad 2 or new iPad. Download the app and try it out on your kids – they'll love it!
I wrote this review while participating in a campaign by Mom Central Consulting on behalf of Band-Aid Brand Adhesive Bandages and received a promotional item to thank me for my participation.