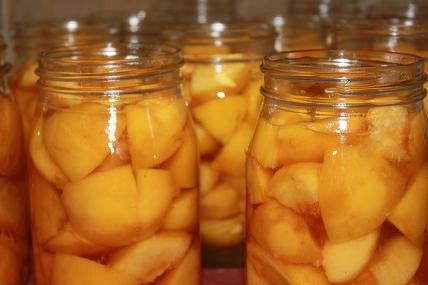 This weekend I canned fruit for the first time ever. Because I have never canned before, I was a bit nervous to give it a go all on my own. I had my mother-in-law to ask questions over the phone, but I pretty much just jumped in and hoped for the best. It was thrilling. And my peaches turned out wonderfully – every bottle sealed and hearing those little pops was just music to my little ears.
Now is a great time to can lots of things, especially peaches and apples. I have some more peaches to do and some apples that I haven't quite yet decided on a recipe for. I'm thinking applesauce or maybe apples butter. Anyone have a great apple canning recipe/idea? Send it my way.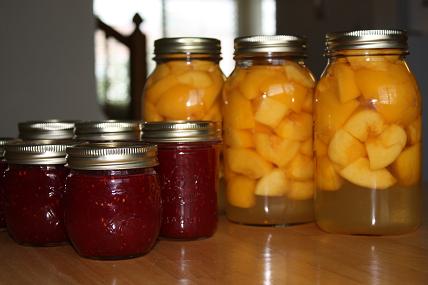 I also did peach raspberry jam, and it is divine. I got the recipe from my fabulous friend Jeri, and here it is for your enjoyment. She has recently been posting about all sorts of canning recipes if you need some help.
____________________________________________
Peach Raspberry Jam
7 cups blended peaches
2 packages frozen raspberries thawed and blended (3 1/2 cups)
10 cups sugar
2 small packages raspberry Jell-O
1. Peel and slice peaches – you can put them in lemon juice to keep from browning or not. I never do.2. Blend peaches in food processor, blender, or with a potato masher.
3. Combine peaches, raspberries, and sugar in a thick-bottomed pot.
4. Cook on low stirring often. Bring to a boil and cook for 20 minutes.
5. Skim foam.
6. Remove from heat.
7. Add Jell-O and stir until dissolved.
8. Ladle into jam jars using a jar funnel and put on your lids and rings.
9. Process in a water bath canner for 10 minutes to preserve.
10. Let sit until cool (about 12 hours), and store in a cool dry place for up to 18 months for your winter-long enjoyment.
____________________________________________
I am officially nuts about canning. I felt so domestic and powerful, knowing that I was defying nature by preserving fruit that is meant to last only a few days or weeks. Hahaa. This is definitely at activity that children should experience. I can't wait until I have lots of kids and they're all old enough to help. Won't that be so fun? With way too many people in the kitchen and all the laughing and talking that will go on. Aaaahh, that is what I dream about at night.
Anyway, I had so much fun working while my husband occupied our wrecking ball. I'm going to have to finish up the jam tomorrow while Boyd is at work, so I hope we can avoid broken glass and third degree burns. Wish me luck. And please share your favorite things to can and your secret recipes. Email me at kelsey[at]vanillajoy[dot]com. Toodles!
{photos taken with a Canon Digital Rebel XSi}