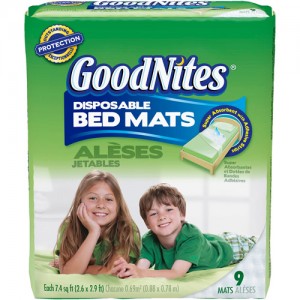 It's been almost two months since we started using the GoodNites bed mats and we've gone from accidents every single night to only one accident in the last six weeks!
The bed mats have given both my son and I some peace of mind about the whole thing – if he has an accident, no problem! Using disposable bed mats have completely taken the stress and frustration out of the night training process, which has helped him be more successful.
They've also given me the will power to see if another son is ready to kick bedwetting, which I definitely wasn't ready to tackle before. He's been sleeping in regular underwear for about a week now and has only had a few accidents and they're getting less frequent all the time.
We have been leaving the bed mats on our sons' beds for as long as we can. Since our older son is staying dry almost all the time now, we can use the same bed mat for over a week before it needs to be changed (not because it's wet but because it's all wadded up in the center of the mattress, still stuck fast to the sheet, from all his mid-sleep squirming!) The mats are impressively hard wearing, and I've been very happy with how long they each are usable.
I really think our children have been successful because there was a lot less pressure on them to stay dry and not be the source of parental frustration, which really shouldn't happen either way. But we do get frustrated! Even though bedwetting is not intentional, it is still frustrating for parents because it creates more work first thing in the morning.
Most all parents go through a period of bedwetting with our children, and here are some of my tips to you:
Use disposable bed mats!
Stay calm, don't get angry at accidents.
Be positive and encouraging.
Wait until your child's body is ready.
Educate yourself about bedwetting by reading here and talk to your doctor if necessary.
Here's a special coupon offer so you and your child can try the bed mats out for yourselves.
With both of our older sons night trained, I'm feeling so good about working through bedwetting with our youngest son – with GoodNites bed mats, it's going to be easy!!
I wrote this review while participating in a campaign by Mom Central Consulting on behalf of GoodNites. I received product samples to facilitate my review and a promotional item to thank me for my participation.