I know this is not a food blog, but my sister has been sending me yummy recipes lately so I just have to share them! This is perfect for Fall and Thanksgiving.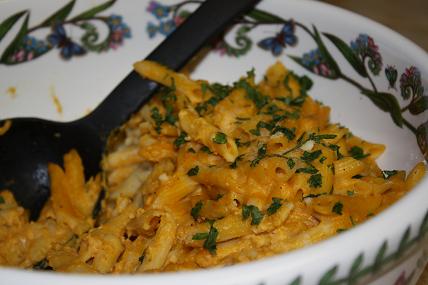 Penne with Pumpkin Cream Sauce
1 lb. penne
2 T. butter
1 onion, chopped
salt and pepper
15 oz. pumpkin puree
1 c. heavy cream
1/2 c. grated parmesan cheese, plus more for topping
1/4 c. chopped flat-leaf parsley
Cook pasta in salted water until al dente, drain, reserving 1 c. pasta cooking water (don't forget this part – you'll need the extra liquid). In the same pot, melt butter over med-low heat. Add the onion and season with salt & pepper; cook, stirring, until softened (about 6 minutes). Stir in the pumpkin and cream and bring to a boil. Return the pasta to the pot along with the reserved pasta cooking water and toss. Stir in the parmesan cheese; season with salt and pepper. Serve, topping pasta with parsley and more parmesan.
I made this tonight for my cooking club – try it out and let me know how you like it! I have a fantastic soup recipe that will be coming soon…early next week, I think. Yum. This is going to be my winter of soups, so if you have a good recipe, please email it to me. Thanks!
(Apparently this recipe is from Rachael Ray – I got it from a friend so I had no idea where it originally came from.)