My church operates on a volunteer basis – no one is paid for their service in any position. I was recently asked to be the secretary for our women's organization called Relief Society, and since I needed a clipboard, I picked up a cheap one from Walmart and gave it a little Mod Podge makeover.
Mod Podge is a great supply for your craft room because it makes decorative makeover-ing super easy. You could spruce up a clipboard, wooden picture frame, lamps, table tops, or kid's bookshelves. I actually have some lamps I picked up at a garage sale for $1 a piece that I plan on making over.
To begin, pick a pretty piece of paper, wallpaper, photo, magazine page, page out of a book, anything. Spread glue all over the surface of your clipboard – do it quickly before it dries.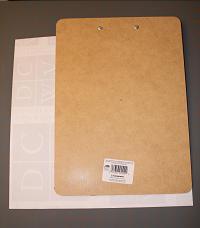 I lined up one edge of the paper with one edge of the clipboard and let the other edges hang off. After you rub down the paper with a bone folder to make sure it sticks really good, flip the clipboard over and cut the excess paper off along the edges of the clipboard using an X-acto knife. You'll have to hang the top edge of the clipboard off the able so it lies flat.
I lined the top of the paper up with the bottom of the metal clip and then patched the corners.
With a paintbrush, give the surface of the clipboard several coats of Mod Podge, waiting 15-20 minutes in between coats.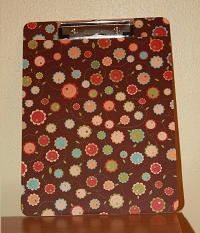 Voila! All finished. When I get tired of this pattern, I'll either get another $.99 clipboard or cover it up with something else.
I did have a problem with the paper bubbling because my glue had dried a bit. Next time I will maybe cut my paper into two sections and glue half at a time. You will barely be able to see the seamline and that will prevent bubbling.
This was a fun project that took about a half hour, excluding the glue drying wait times. I can't wait to find something else to Mod Podge!