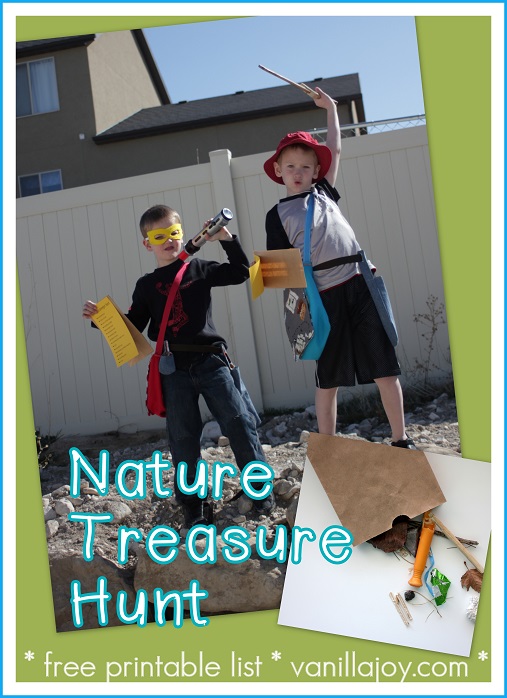 Since it's finally spring and we are all so excited to be outdoors we decided it was high time for an adventure, of sorts.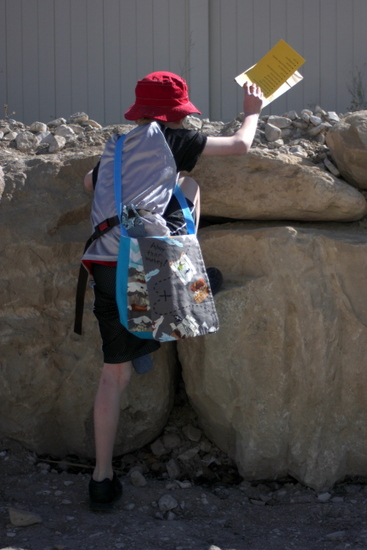 My three boys can only take winter and being cooped up in the house for so long…they are loving the warmer weather and are playing outside with neighbors, but we all felt something special and extraordinary was in order. And since kids are pretty easy to please when it comes to extraordinary adventures…a Nature Treasure Hunt was what we settled on.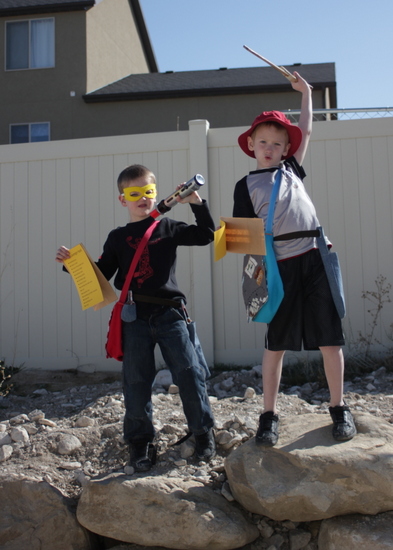 But first things first… we had to get dressed and ready in our "adventure clothes." My boys love costumes and are usually to be found with a sword or mask or cape on. Adventuring is so much more fun with the appropriate paraphernalia right?!? So Adventure Costumes? CHECK. I put together a list of 15 treasures we can find in our area, which, as you can see, is full of rocks and dirt and all kinds of fun and beautifully earthy things.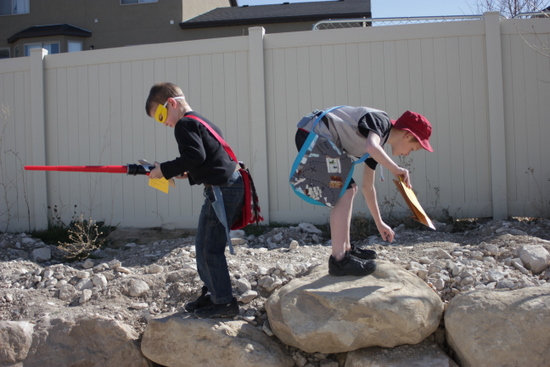 Spring is the perfect time for a Nature Treasure Hunt Adventure – nature is waking up and everything is coming alive and it was so wonderful to get out in the sunshine and fresh air and talk about all the beautiful creations and treasures there are to be found outdoors if you open your eyes and look. You can download my list here, print it on some colored cardstock, staple it to a brown paper bag, and send your little ones on their very own treasure hunt. But don't forget to put on some adventure gear first – shove a flashlight in your pocket if that's all you've got. Adventurers need gear!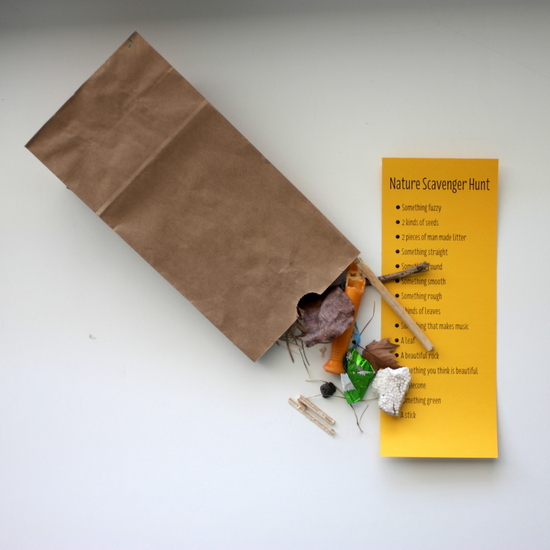 Here's what we set out to find:
2 kinds of seeds
2 pieces of man made litter
Something straight
Something round
Something smooth
Something rough
2 kinds of leaves
Something that makes music
A leaf
A beautiful rock
Something you think is beautiful
A pinecone
Something green
A stick
something fuzzy
The best part about our hunting adventure was just being outdoors in the beautiful weather, enjoying the world and observing and learning together. We'll be having lots more adventures of all kinds throughout the coming spring and summer months. We'll also be enjoying watching Tink and her Pirate Fairy friends (whom you can check out on Facebook) on their adventures starting April 1st when the new Disney movie The Pirate Fairies is released on Blu-ray™ and Digital HD! From it I'm sure we'll get some good ideas for more adventures of our own to have. What adventures are you planning for spring and summer???