{We have our winner! And it's Natalee, who said, "I love aromatherapy. It would be nice to have something other than Neosporin, painkillers, and bandaids in my first aid kit. I would love to be the lucky winner of such a cool give-away!"
Email your address to me at kelsey[at]vanillajoy[dot]com to claim your prize. Congratulations!}
THE PRIZE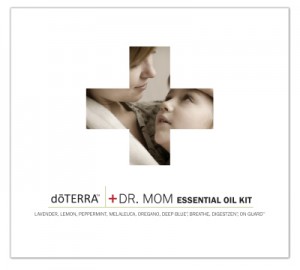 Last week I got to learn more about essential oils at a product launch doTERRA put on for their new Dr. Mom Essential Oil Kit, which is a collection of essential oils that help moms, grandmas, and individuals care for their family's everyday needs using safe, natural remedies. And I have one to give away to a lucky reader!
The Dr. Mom Essential Oil Kit includes the following 9 essential oils ($150 retail value):
Lavender (calming and relaxing)
Lemon (cleanser and mood improvement)
Peppermint (ease breathing and digestive aid)
Melaleuca (cleansing and regenerative, esp. for skin)
Oregano (digestive and respiratory support)
Deep blue (ease achy joins and sore muscles)
Breathe (ease breathing, cleans and soothes airways)
Digestzen (digestive relief)
On Guard (eliminate and control pathogens)
REVIEW
I didn't know much about essential oils before, but I learned some good things that made me want to try some of the essential oils. I don't like going to the doctor and taking medicine, so this more holistic approach to staying well and energized sounds good to me! (However, I do think that we have the longest and healthiest lifespan ever because of modern medicine, so there is definitely a place for both.)
If you're new to essential oils, here's some good background information from doTERRA's website:
Essential oils are natural aromatic compounds found in the seeds, bark, stems, roots, flowers, and other parts of plants.
Essential oils are very clean, almost crisp, to the touch and are immediately absorbed by the skin.
Essential oils have been used throughout history in many cultures for their medicinal and therapeutic benefits.
Essential oils can be used aromatically, topically, or internally, by themselves or in combination with other oils.
I learned from this presentation that essential oils are what protect the plants that produce them from disease. It makes sense that they could do the same for us.
I have tried the lemon, peppermint, and lavender, all of which have wonderful aromas. Like I said, I'm new to essential oils, but I'm open to their possibilities. It's always fun to try something new, especially when it works!
GIVEAWAY GUIDELINES

Visit doTERRA.com.
Come back here and leave a comment telling me why you should win this giveaway before midnight Wednesday, April 1.
A winner will be selected and announced at the top of this post on Thursday.
Only one comment per person unless you earn extra entries.
Giveaway open only to residents of the continental United States…sorry.
EARN EXTRA ENTRIES
You may earn 1 extra entry each for doing any of the following (5 total extra entries possible). You must leave a separate comment for extra entry.
Blog about the contest with a link back here
Subscribe to my feed
Sign up for my newsletter
Add my button to your sidebar
Comment on any non-contest post (must contribute to the conversation)
GOOD LUCK and THANKS, doTERRA!