written by Brittney of Darling Sparrow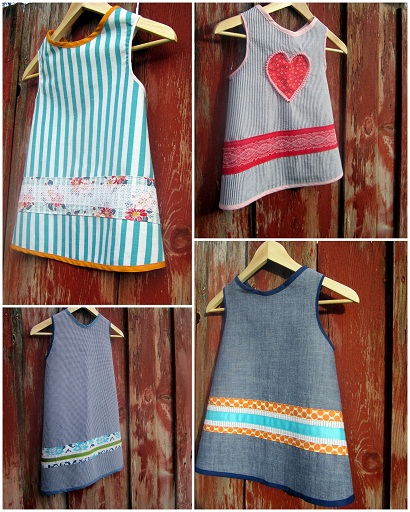 Hey everyone! We at the DarlingSparrow etsy shop would love to offer a lucky vanillajoy reader a one-of-a-kind handmade children's smock-aprons (apparently that's a less confusing term than "smoprons." Go figure.)
Let's talk about these adorable things, shall we? Each vintage inspired smock is unique, functional, and timelessly stylish – a delightfully cheerful mix of prints, patterns, and color on a classic smock shape. (Some even have pockets! Little hearts are pitter-pattering at this moment and don't know why, but there's an 83% chance it's something pocket-related. The other 17% is probably hovering around "fruit snacks.")
Why do you want one? Let us count the ways…
1 – They're just stinking cute.
2 – Protect regular clothes during any and all messy projects, including baking, painting, eating, gluing, decorating, gardening, you name it.
3 – Easy-on, easy-off (a secret Velcro closure is hidden by a large vintage button. Sheer genius).
4 – One-of-a-kind handmade – no mass production here. Which we, as moms ourselves, happen to love.
5 – Will fit for years and years. No lie – I have an 8-year-old who can still wear our size Small smock when necessary.
6 – Each comes with a free muslin gift bag, so it's immediately ready for gifting.
They make fabulous gifts for your own kids or for your friends' kids…or for yourself to have on-hand for cute little visitors. We sincerely hope you come to love them as much as we do!
How to enter the giveaway:
You must visit the Darling Sparrow shop (http://www.etsy.com/shop/darlingsparrow) and leave a comment on this blog telling which item is your favorite and who you would give it to. (Make sure you include your email address in the comment!)
BONUS entries (leave one comment per item that you do below):
1 – favorite the shop
2 – like Darling Sparrow on facebook
3 – follow us on Twitter
4 – pin your favorite item on pinterest
5 – blog, tweet, or FB a message about the giveaway (leave corresponding URL in the comment)
But wait, there's more! (Hellooooo, HSN.) We just dropped all prices 20-30% for Valentine's Day, PLUS we'd love to offer you guys 10% off any item in the shop. I know, it's like double-coupon day. Simply use the coupon code: FEBRUARY10 at checkout.
Thanks so much for hosting this giveaway, Kelsey! And we hope to see you all at http://www.etsy.com/shop/darlingsparrow. Check back often, as we're constantly adding new smock styles. Happy childhood!