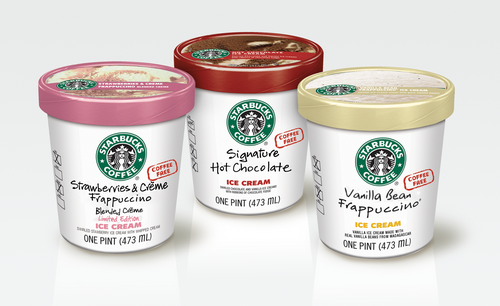 Ice cream one of my summer desserts of choice, and I recently got to try out Starbucks brand of ice cream. I'm not a coffee drinker (or eater…) so I stuck with the coffee free options – Stawberries & Creme, Signature Hot Chocolate, and Vanilla Bean.
I tried Strawberries and Cream first and the first thing I noticed was that there were real strawberries and it was really strawberries with cream and not cream with strawberries. Usually you get the latter…
I've been trying extra hard lately to only buy foods that are really food, and this ice cream comes pretty close, so I am a huge fan of that.
Here are the ingredients in Starbucks Strawberries and Cream: CREAM, SKIM MILK, WATER, SUGAR, STRAWBERRIES, EGG YOLKS, STRAWBERRY JUICE CONCENTRATE, GUAR GUM, LOCUST BEAN GUM, VANILLA EXTRACT.
Just for fun I checked out another generic brand's list which had about 35 separate ingredients, of which I recognized only about 5.
So bottom line is that Starbucks ice cream tastes great because it's made from good ingredients and not science. The Hot Chocolate ice cream is next on my list to try…YUM!
"I wrote this review while participating in a campaign by Mom Central Consulting on behalf of Starbucks and received coupons and a promotional item to thank me for taking the time to participate."