So I'm not going to be able to finish my pillowcase tutorial today…sorry. I hope to have it up tomorrow.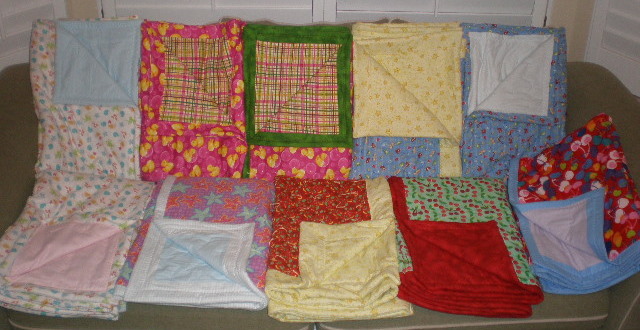 BUT, I finished another sewing project yesterday! More quilts!!! I finished the last of the 10 I had been working on last night and so now it's time to pack them up and ship them off to the Humanitarian Center where they will be delivered to children in need.
As I worked on this set of 10 I felt a new sense of gratitude. Each time I work on one of these quilts I'm reminded of how much I have and how blessed I am. When I get to thinking about what I have compared to others around me, it's good for me to work on these quilts and get a better sense of what is really important.
Working on these quilts also reminds me that the most important thing in my life that has brought me the greatest amount of genuine joy is my family- my husband and especially my son. Making these quilts for other children reminds me how lucky I am to have a son of my own to care for and to learn from. My son gives me a fresh outlook on life and the things that are really important and helps me think less about things that don't matter.
Making crib quilts for Humanitarian Aid is only one small thing that I can do with the resources I have, but I feel good about focusing on that for now. I have enough fabric for 4 more quilts, and then off to the fabric store for more!!!