MY REVIEW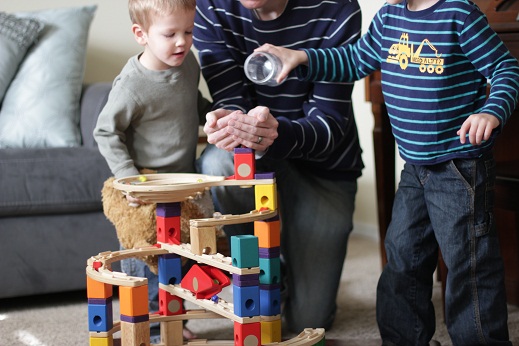 Before Linus was born, I went hunting for some new and exciting toys. I knew I was going to need some help keeping Gus and Elliot busy, and I found the Quadrilla wooden marble run sets that looked amazing. Quadrilla sent us the Twist & Rail Set to try out and it's our whole family's new favorite thing.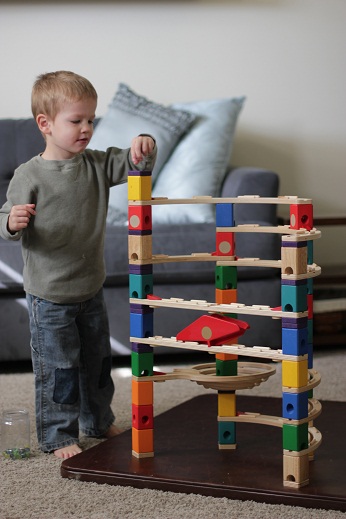 My boys love building, and this marble run set is the best kind of building because at the end you get to watch marbles go crazy! The Twist& Rail Set includes:
– 34 coloured blocks with 8 different functions
– 3 short curve rails
– 4 big curve rails
– 2 long straight rail with 5 holes
– 1 big twist
– 1 red seesaw
– 10 basic-rings
– 22 lilac high adjusters
– 6 hole shutters
– 10 speedmakers
– 5 speedmakers and hole shutters
– 50 coloured marbles in a bag
– 20 page instruction book with phasepictures for easy build up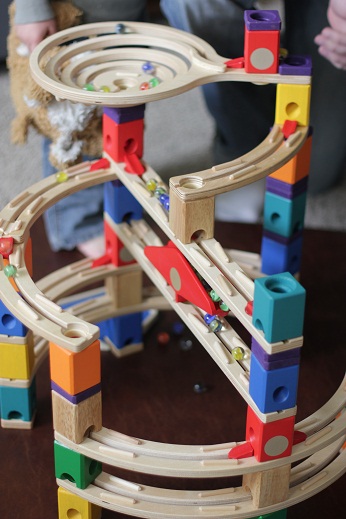 The instruction booklet is awesome with lots of track ideas – the pieces are kind of complicated for my brain and I haven't dared to create my own track, but Elliot and his neighbor friend have!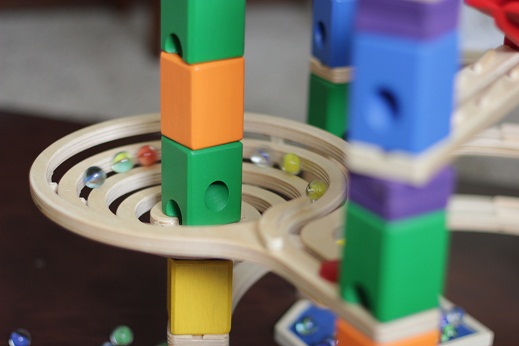 The pieces are all solid wood, most are painted in bright fun colors, and the set is indestructible and so heavy duty. It comes with some really fun pieces like the big twist and seesaw. The marbles run smoothly and we all love the plinking thunking sounds that the marbles make!
We also got the Sound Blocks Extension Set to review, and it's our very favorite. A simple picture wouldn't do it justice, so watch and be amazed!
VIDEO
Quadrilla's marble run sets are such unique and interactive toys that are awesome for kids of all ages and encourage all kinds of building and problem solving developmental skills. There are so many different basic, extension, and expansion sets to keep things interesting. And because they're made from wood, they'll last forever, through children and grandchildren!
Thanks to Quadrilla for sponsoring this review & check out all their great marble run products just in time for Christmas!
{This product was provided to Vanilla Joy for review purposes.}