In honor of this month's spooky holiday, we're doing a giveaway!!! And you'll notice that the sponsors are almost all local Etsy artists – I wanted to do this to share my appreciation for these creative people's work. I love to buy from individual artists on Etsy because I know my money will go directly to them and keep their hobby and craft alive. Maybe this Christmas will be an Etsy Christmas, who knows!
Five winners will each win one of the following great prizes.
1. Handmade Pumpkin Wool Blend Hat by Etsy artist Knitrgal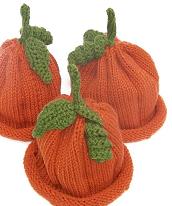 I fell in love with this handmade knitted pumpkin hat immediately, and do you wonder why? Adorable. And it will be fashionable for two whole months, all the way until Thanksgiving!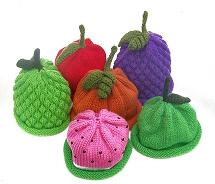 Knitrgal makes these other fruit themed hats and has even more in her store. Every hat is hand made and she uses a variety of techniques to get the unique and textured looks. She makes them in 3 sizes (infant, toddler, and child) and they are both machine washable and dryable (low temperature).
These hats would make a perfect baby shower or birthday/Christmas gift, so click on over to Knitrgal's store and pick your favorite!
2. Pumpkin Appliqued Onesie by Etsy artist SnazzieDrawers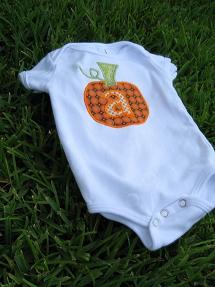 To go along with the pumpkin hat, Snazzie Drawers has provided this adorable pumpkin monogrammed onesie or toddler T-shirt for your little one. She has all kinds of beautiful appliqued onsies – her designs are the most unique and artistic I've ever seen. She uses multiple fabrics to create beautiful butterflies, birds, and flowers. She also has little onesies with tutus attached. If I had a girl…
Snazzie Drawer's store is so much fun, click on over and check out all her beautiful designs, any of which would make a fantastic Christmas present for your little ones. It's not too early to start that Christmas shopping…
3. Soapsicle and Pumpkin handmade soap by Etsy artist Anniepoo
These dainty little soaps are handmade by "Anniepoo" and her daughters, and they love doing custom orders. These two soaps are her Halloween/fall specialty. The pumpkin soaps are made with a shea butter soap base, are scented with Pumpkin Spice, and come in your choice of white, orange, or a mix. The life sized soapsicles smell like pumpkin pie and come in a waterproof package with a customizable label.These soaps would be great party favors for your Halloween get-together (she does a discount for orders of 10 or more), and Anniepoo can even create custom tags if you want. The giveaway winner will get three pumpkins and one soapsicle. Visit her store and check out all her other fancy handmade soap designs!
4. Jack-O-Lantern and Ghost Silicone Cupcake Molds by Wilton
I love silicone bakeware. I got a set for Christmas a few years ago, and I have since discarded most of my aluminum bakeware because the silicone is just so convenient!
I love baking seasonal goodies, so these Halloween cupcake molds really caught my eye. Wilton has so many fun seasonal baking things, I just go nuts when I pass that aisle at in the store. My two favorite things are cookie cutters and silicone molds, and aren't these little jack-o-lanterns and ghosts adorable? I can't wait to eat them!
Back to the amazing silicone part. These silicone cupcake molds are freezer, refrigerator, microwave and dishwasher safe, and oven safe to 500°F. Incredible. This means you can make either cupcakes or popsicles/frozen cupcakes! I love the versatility of silicone, and the fact that they clean up pretty easily. An amazing invention.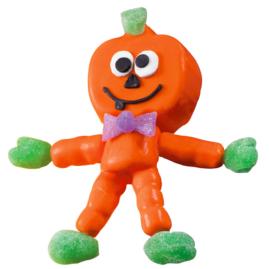 You can use the jack-o-lantern mold to make this fun little pumpkin head/marshmallow man. For more fun cupcake/baking ideas, visit wilton.com.
Thank you, Wilton!
5. Tickets to the Fall Festival on the Farm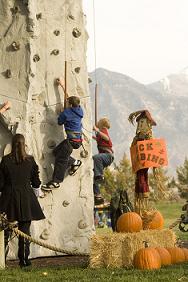 This event is being put on by Young Living Essential Oils and will take place October 25 from 4-8 pm at the Young Living Lavendar Farm in Mona, Utah. If you live in Utah, this event would be so much fun for the whole family! They will have a Trick-or-Treat Town, wagon rides, pony rides, and lots more – a fun and safe place to take your children to celebrate Halloween.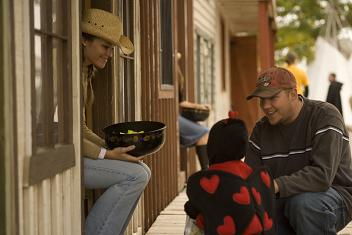 Normally, tickets are $4 for children ages 3-15 and free for adults and children under 3. One person will win tickets for the whole family!
Those are our prizes for this Halloween giveaway. Thank you to all our sponsors, and Happy October!
___________________________________________________________
Blog Giveaway Guidelines:
To enter this contest, leave a comment on this post between now and midnight PST on Saturday, October 4th.
One comment per person please.
This giveaway is only open to residents of the continental United States…sorry.
The winner will be randomly picked and announced in a new post on Monday morning.
If you have a product you would like Vanilla Joy to review and give away, email me at kelsey [at] vanillajoy [dot] com. Thanks!