Don't forget about the Halloween giveaway, going on now through Saturday at midnight! Five people will win 5 fun Halloween/fall prizes, so don't forget to enter by leaving a comment on this post.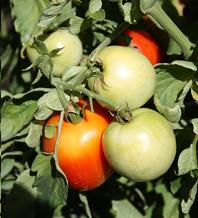 I just bought some peaches at Allred's Orchards in Provo – two whole box (about 40 lbs) for $12. I think that's a pretty good deal. Now all I need are some canning jars. Do you have some you'd be willing to part with? If you live in Utah County, let me know…
A few weeks ago I ran into a neighbor who was carrying a bucket of tomatoes from her garden. She told me that she freezes a good portion of her garden produce rather than canning it because it's faster and easier, especially if you plan on using the food within a few months.
If you're interested in trying freezing and you're not quite sure how to go about it, click here and here for instructions, recipes, and other useful information.
Any other great ideas for what to do with excess garden produce? Please leave a comment and share!
{photo taken with a Canon Digital Rebel XSi}