So I've changed my template, as you can see. I've been planning on changing for a long time, mostly because my husband said that the blue bird one wasn't very SEO friendly. And he is the boss when it comes to SEO. I found this template a while ago but it needed some adjustments – you should have seen it before any tweaking…BORING. The header is temporary – I'm going to find a designer to create something special, but I like this for now.
I miss my old template, but I do like this one and I think it looks cleaner. If all my readers like the old one better, I'll have to think about changing back, but I hope you'll get used to the new look. Change is good, right? Hmm.
Vanilla Joy's template is a work in progress, so be patient as I get things slowly how I want them. It'll be awesome when I'm finished! Thanks for visiting!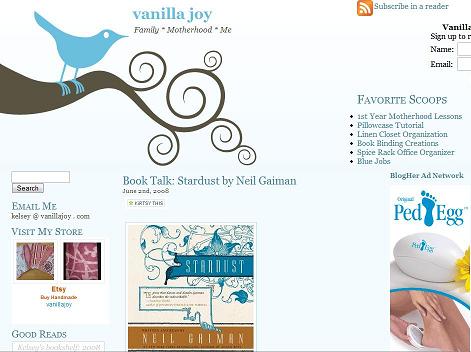 Here's my old template. Please vote in the left side bar and let me know if you like my new template better than the old one. Thanks!