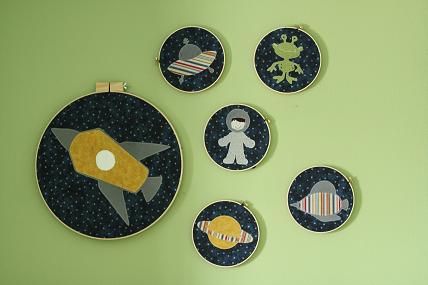 I redid Elliot's rocket ship wall decor to something that fit the existing color scheme a little better and with more designs to fill up the space. I used the Everyday Paper Dolls Cricut cartridge to cut the patterns out and then appliqued them with fabric and put them in embroidery hoops – my favorite bedroom wall decor!
I also redid Gus's wall too – I didn't like the colors so I came up with a new color scheme inspired by some crib sheets I got at Target with elephants.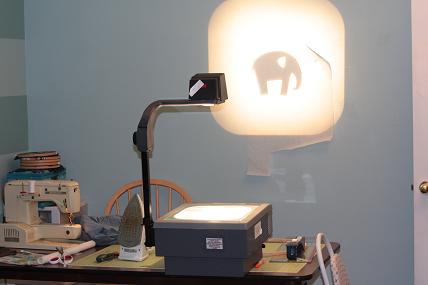 I picked up an old overhead projector from a college surplus sale, traced the elephant from the sheet, and blew it up on the wall to be much bigger. I used that as my pattern for the applique.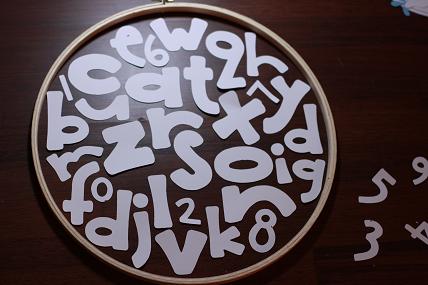 Then I cut the alphabet out with my Cricut and arranged the letters randomly to make a cute design and appliqued all that to some white terry cloth. It was a lot of work and my sewing machine pedal was burning hot when I was finished, but I love how it turned out!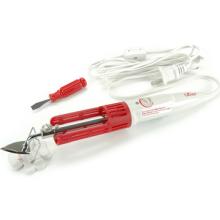 Besides Heat'N'Bond and my Cricut, a mini iron really makes the applique job go smoother. I use the Clover mini iron and it works great.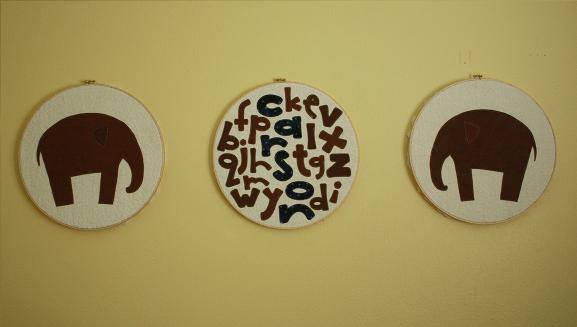 This is the finished thing. I love it! Now what to do on his other walls…Any ideas?
Click for more cricut craft ideas.