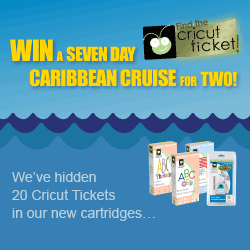 I'm sure you've all heard about the Cricut Golden Ticket Scrapbook Cruise giveaway…  Twenty Golden Tickets are hidden inside Cricut's 4 new cartridges (Jubilee, Stand & Salute, Simply Sweet, and Home Decor Solutions), and if you find one, you'll enjoy a seven-day Eastern Caribbean "Craft" Cruise for two, plus a $600 airfare credit! The contest runs through August 15th, so you still have almost a month to buy those cartridges and win a relaxing and tropical vacation!
You can also enter to win one of the 4 cartridges and a shot at a Cricut Golden Ticket on Today's Mama. Doesn't a scrapbooking cruise sound like the best vacation ever?!?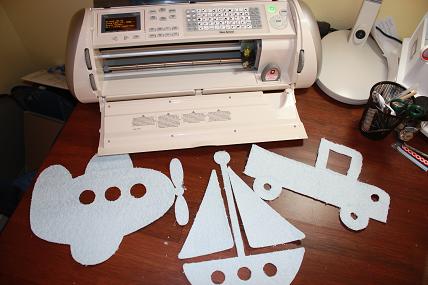 I have been lucky enough to get to try out the ULTIMATE crafting machine, the Cricut Expression. I'm loving the 12×12 or 12×24 format – more cutting options means the crafting possibilities are ENDLESS. Right now I'm working on a little wall decor project with fabric that is going to be adorable in my new baby's room. I couldn't have done it without the Expression machine, and I have so many more projects I'll be sharing with you over the next few weeks and months! I love using the Expression to cut fabric!
In the few days I've had the Expression die cutting machine, I've learned how many special features it has! I've been using the "Fit to Page" feature a ton, which means you can cut the shape big without messing with actual measurements. All 3 of those shapes up there were cut using the Fit to Page feature because I wanted them as big as possible.
I also love that the Expression machine has a screen that shows you exactly what you're going to cut, the pressure and speed levels, and much more. I can't wait to experiment with the Portrait, Fit to Length, and Mix'n'Match modes. And I have some great plans for those 4 new cartridges as well…
Happy crafting, and don't  forget to find your Golden Ticket!