Someone is going to get a happy Labor Day surprise, and her name is Natalie Portugal! Natalie said, "Love it! This is giving me the scrapbooking itch." Email me with your address and I'll get you your prizes pronto. Congratulations!
Normally on Mondays I would do book talk, but since today is a holiday, I'm going to go pick raspberries in Payson instead. I'm going to eat a bunch and make freezer jam with the rest, something I've never done before!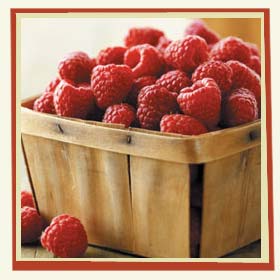 I've been wanting to do this for a long time because I love raspberry jam, but also because this sort of thing reminds me very much of my childhood. Growing up in Oregon meant that we picked fruits and berries every summer – blackberries grew wild right by my grandma's house and there were several berry patches nearby. I actually worked at a berry patch for 2 or 3 summers, starting when I was 12. I picked raspberries and blackberries and didn't make very much money at all, but where else could I work to earn money as a 12 year old?
Anyway, I'm really excited to go pick some raspberries with my own family and bring back those wonderful memories. There's a great place called The Raspberry Patch in Payson if you live in Utah.
Have a wonderful labor day!