The Shade giveaway ended last night, and here are our two winners!
Maren Brinkerhoff, who said, "I think I should win because Jared has been asking me in the last couple of weeks when I'm going to take advantage of the Shade sale. Also, I love those shirts and I need a new wardrobe."
Becky Smith, who said, "I always love new clothes!"
Congratulations to our winners, and MERRY CHRISTMAS! Spend your money wisely…
I have two other announcements: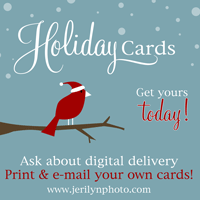 Jeri, of Jerilyn Photo, has just started offering digital delivery on her holiday announcements. You order your cards, she whips them up, and sends you the master copy that you can get printed that day if you want. No more waiting for your snail mail to arrive. Jeri's digital delivery comes just in time for the holiday mail congestion.
And, I apologize for a little slip up yesterday – somehow Monday's giveaway posted yesterday and about 30 people entered. You are still entered, I just took that post down and it will come back on Monday. Whoops!
There will be more giveaway winners and new contests next week, so have a great weekend and I'll see you then!