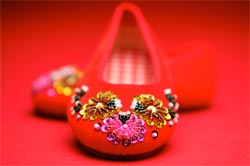 Sometime during the day hide some candy or a small gift in each of your children's shoes. At some point in the day, perhaps after dinner or right before bed, give one person a little package to open that will have a note inside saying something like:
"For a bit of Christmas news, hurry and go look in your shoes" or
"Deep in the place where you put your feet is hidden a treasure, a gift, a treat."
Children love discovering gifts and they will be so thrilled to find something in their shoes.
This is a Christmas tradition in Italy, so maybe also teach your family that "Buon Natale" means "Merry Christmas" in Italian.
Buon Natale!
[photo from jupiterimages.com]