I participated in a campaign on behalf of Mom Central Consulting for Magisto. I received a promotional code for premium features to facilitate my review and a promotional item as a thank you for participating.
I live over 800 miles away from my parents and siblings and it's pretty terrible. My kids are growing up and they're not getting to know my parents and siblings as much as I would like them too.
We rely on lots of photos and videos to share as much of our children's lives with family as possible, but it can be frustrating. Photos are pretty easy, I keep a family blog that keeps everyone updated on the day to day happenings of our family and documents how the kids are growing and changing.
But there are so many moments a photo cannot capture. We don't video as much as we should and sharing the videos we do take is a huge pain. My DSLR takes video but I don't usually have it close when something worth capturing happensand the file sizes are so big it jams up my computer memory.
I do always have my phone within a few steps and with the new Magisto app, sharing our videos with family and friends is easy, creative, fun, and fast.
Like most technology these days, learning this app is pretty self-explanatory. The app guides you step by step through your video creation. You'll be finished in 6 quick steps: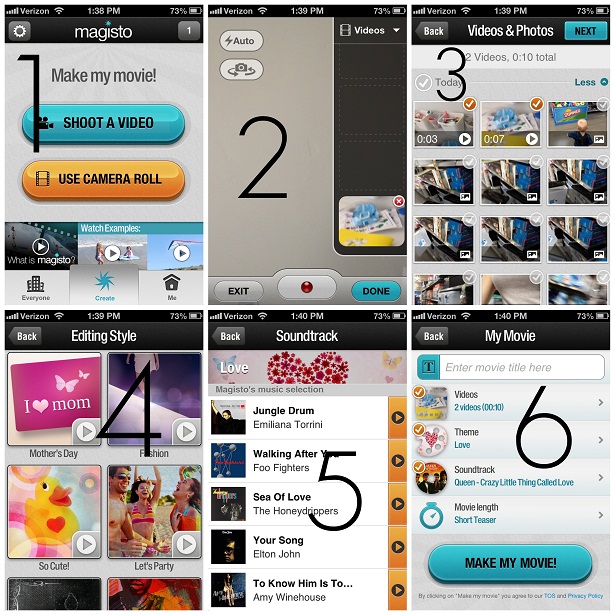 Here's my video:
With this simple app, creating and sharing videos is frustration-free and fun.
MAGISTO'S MOTHER'S DAY CONTEST
Magisto has partnered with Joan Osborne to celebrate Mother's Day to bring together music and video production technology. Joan's new song "Born To See You Through" celebrates her role as mother and is featured in the app's Mother's Day theme. You can participate with Joan and Magisto in the Mother's Day challenge and create your own movie telling why you love being a mom or why you love your own mother.
From now until May 13, 2013, your Magisto-created movie (including the hashtag #MagistoMoms) will be entered to win
Grand Prize: Samsung Galaxy Note Tablet
Second Place: Joan Osborne's new CD + handwritten lyrics to 'Born to See You Through'
Runners up: 50 runners up will receive 1-year MagistoPro upgrades
The challenge coincides with the first annual Mother's Day benefit concert hosted by Joan Osborne for the Somaly Mam Foundation and Save the Children. The Magisto team will create and share their own videos and make a donation to the two charities.
Osborne's song will be available through the Magisto site and purchase at www.joanosborne.com with proceeds going to both charities. Watch the Magisto created by Joan Osborne here and all the Featured Mother's Day videos here.
FREE DOWNLOAD
Download the free Magisto app (for iPhone and Android) and use the promotional code MomsRule to get three free downloads each. The codes are good through the end of May so be quick!
Create your video and enter to win one of those great prizes!