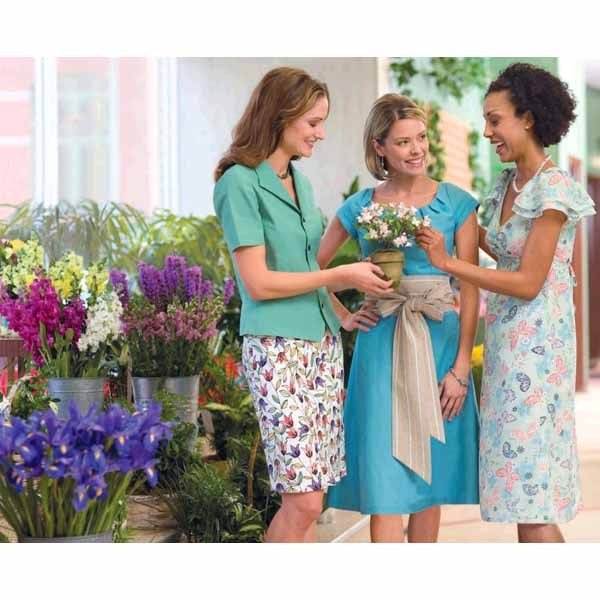 I get the mailer for JoAnn Fabric & Craft and this picture was on the cover. That blue dress in the middle is nice and summery – I am getting inspired to do some clothing construction! I have sewn clothing for myself in the past, but not in a long while. I think my next clothing project will be this dress.
Unfortunately the pattern number isn't listed anywhere in the mailer so I had to do a little searching to figure out what it was. I wish it was a Vogue pattern (they are typically much better in fit, especially if you don't know how to alter) but it's McCalls number 5466. I'll just have to do some altering, which is okay because I usually have to anyway. I think I've mentioned before that I'm 6'2″ so "average" doesn't really describe me…at all.
Eventually I'm going to do some tutorials on how to alter patterns. Don't hold your breathe, but I'll get to it as soon as I can.
Clothing construction isn't real common, even among crafty women today, because buying clothes is so much easier and many times cheaper as well. And there's the problem of patterns – because they are made for the "average" sized woman, they really don't fit anyone very well. But if you're like me and have some odd body measurements, sewing almost becomes a necessity. I cannot buy a jacket with sleeves that cover my whole arm so I either have to do without or make my own. But because patterns aren't always very well made, the key to sewing a garment successfully is knowing how to alter the pattern to fit your body just right. I'm not an expert, but I do know a few things…
So I'm going to give this dress a go. I'm going to start off with muslin before I choose some more expensive fabric so I can be sure to get my measurements and alterations just right. Updates to follow…