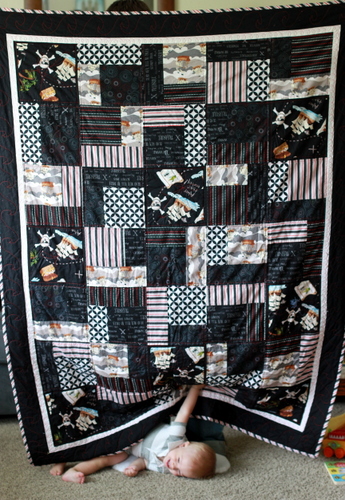 I FINALLY quilted and bound this pirates fabric quilt – and now Riley Blake has a brand new Pirate Matey's line that I think I like even better! Of course…I love it all!
Linus just can't keep himself out of trouble. All over that hangy blanket was where he HAD to be.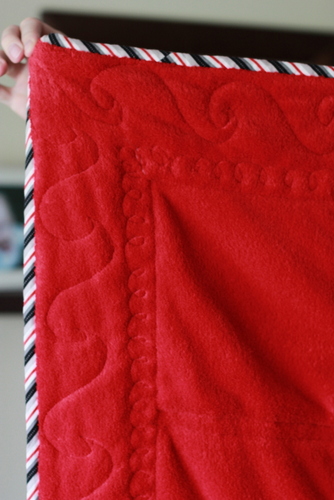 I tried something big and new with this quilt – quilting without following pre-marked lines. I totally winged/wang this and I LOVE how it turned out. I did some simple waves for the border and I jumped right in without thinking about it too much. That's the way to go sometimes…
The one thing that I didn't think about and that was a near disaster was to leave some space for the binding. I quilted those waves the full size of the border so I had to do a reeeally skinny binding.
I also did little loops in the skinny border – also without pre-marking! And I threw in three little hearts for my three babies AND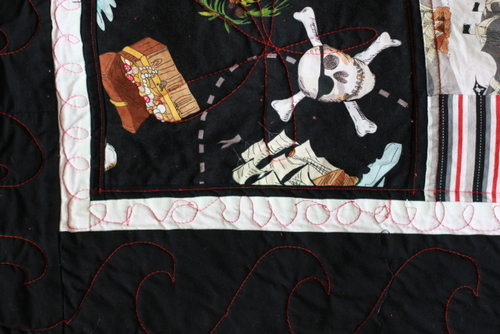 our last name. This was a total experiment and I don't love it. I need some more free motion writing practice I think…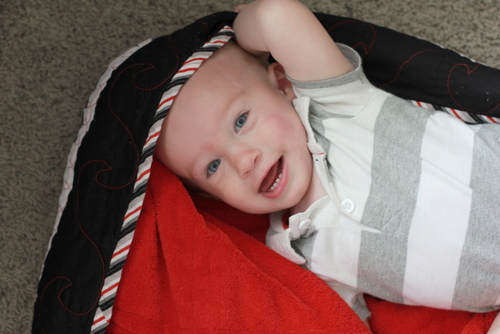 Linus won. We just couldn't keep him out of the way…good thing he's so sweet.