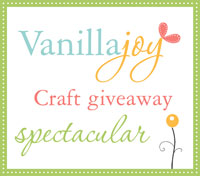 Today is the last day to enter to win the Cricut! You still have a few days for Tuesday and Wednesday's contests, but time is running out! And tomorrow there will be 2 different prize packages and 2 winners, so don't miss that.
Once again (I think I will only have to bore you with this detail two more times…so sorry) click here to get the haps on how to earn extra entries. Reading this page is important because there are TONS of ways you can earn extra entries (the easiest is to blog about the contest and link to Vanilla Joy) and you have to follow some simple but specific guidelines to get credit for your points.
Are you guys getting worn out from all of this yet? I hope not! There will be similar awesomeness pretty regularly around here – I hope to do giveaways at least once a month…I hope to be giving away another Cricut soon, but we'll see…maybe even the big one, you never know!
Right now I'm working on another scrapbooking/craft product that you all are going to GO CRAZY over. I'll tell you one thing – nope. I'd better not. You'll just have to show me how much you love me by continuing to visit and comment – I love hearing from you guys! Hopefully we'll see some more scrapbooking/craft giveaway craziness very soon.
Until then, another lucky winner will get a box absolutely full of the most essential crafting tools that a serious crafter must have (worth over $200). Where do you go when you need the basics? Yes. You go to Fiskars. They've been doing it forever, and here's what someone will find on their doorstep very soon.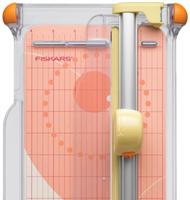 1. A Fiskars 12 inch/30 cm Portable Rotary Trimmer with wave, scoring, deckle, and pinking blades.
Besides the fact that this rotary paper trimmer is well designed and high quality, it's pretty. I love the orange and yellow color scheme. Isn't it wonderful to live in a time where simple tools like this are also nice to look at? Yes ladies, you can now have your cake and eat it too.
This little gem has rubberized feet to keep the base from sliding, and it's slim and takes up less space. That's important because a workspace can't be so cluttered with tools that you have no room to actually work. Slim is good. There is a grid on the surface so you can line up your paper/photos to get nice straight cuts, and there's a crystal clear rail that holds everything in place for extra slippage prevention.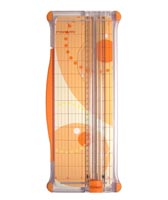 2. A Fiskars 12 inch/30 cm Portable Personal Trimmer and 2 pack replacement blades (straight and scoring). This is different than the one above – that one is a rotary trimmer, this is not. this is a regular trimmer, which is more compact and better for small jobs. I love to use my portable trimmer for cutting photos especially. And isn't their new orangey retro design so cute!

3. A Fiskars 45 mm Comfort Grip Rotary Cutter – our first sewing tool! I love sewing, and I have found this tool absolutely indispensable. Although you could use this on paper, this is my fabric rotary cutter of choice. I love making quilts, and after a couple of hours of cutting squares and strips, my hand is grateful for the cushyness of this rotary cutter. You'll also get a package of replacement blades for this puppy. You'll be set for years!
4. A Fiskars 6.5 x 24.5 Acrylic Ruler AND a 6.5 x 6.5 Acrylic Ruler. I also consider these sewing tools, although they would be very handy for scrapbooking if you don't sew. Fiskars has these acrylic rulers in pretty much any size you could dream about, and they have some pretty cool features.
That dark purple edge is 1/2″ wide to help you visually account for a seam allowance – that's absolutely brilliant, because I can't count the number of times I've cut something without adding in extra for the seam allowance. GRRRR – that's so frustrating! Never again with these rulers. Also, the ruler is divided into 1/4″ increments so that you can align your fabric all the way down and get a perfect cut every time. There are triangles to help you cut those intricate pieces for your adorable quilt, and each ruler comes with some little non-slip labels for the backs of the rulers to keep the ruler in place.
Now all you need is some fabric…and a rotary mat…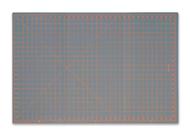 5. A Fiskars 24×36 rotary mat! Okay, now all you need is some fabric. A rotary mat is useful for so many craft applications. I use my rotary mat for bookbinding (punching holes), quilting, and sometimes just as a work surface. I like to have something between me and the table, just in case.
Remember how I said this would cover all your basic craft essentials? Was I right? I was totally right. You have more paper trimmers and rotary cutters than you could ever dream of having, and all for free from Fiskars! Now you're going to need a place to store it and time to use it. I'm sure you'll figure something out…
___________________________________________________________
Blog Giveaway Guidelines:
To enter this contest, leave a comment on this post between now and midnight PST on Tuesday, September 2nd. You can earn additional entries for this contest. To learn how, click here.
One comment per person.
This giveaway is only open to residents of the continental United States…sorry.
The winner will be randomly picked and announced in a new post on Wednesday morning.
If you have a product you would like Vanilla Joy to review and give away, email me at kelsey [at] vanillajoy [dot] com. Thanks!