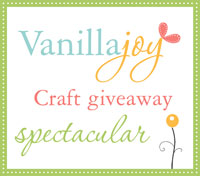 I've said it before, but I'm going to keep repeating myself so nobody misses out. You can still enter to win Monday and Tuesday's giveaways, and you can keep earning those extra entries by blogging and linking. You can also copy and save that cute little button up there, add it to your blog, link it to Vanilla Joy, and earn more extra entries for that. Click here to read all the different ways you can earn extra entries. And click here to see the giveaway schedule – I've had to change things around a bit, so check back to stay updated.
Now, what you're really after. One lucky duck will win these 3 fabulous products.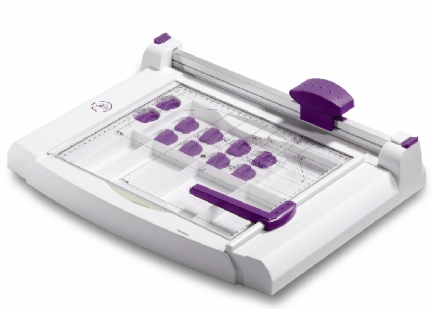 1. The Ultimate Trimmer by Purple Cows.
You have a paper trimmer, but you need this paper trimmer. Because it's a rotary trimmer, which means it can cut a single photo or 10 sheets of paper. And because it has those 11 cute little round things under the cutting surface. Do you know what those are? They're only the one of the reasons this paper trimmer is awesome. They are 10 (ELEVEN counting the one in use!!!) different cutting blades: Straight, Perf, Long Wave, Short Wave, Scoring, Deckle, Scallop, Squiggle, Victorian, Colonial and Pinking. Isn't that brilliant! Craft storage is my ultimate nemesis, and Purple Cows has really found the key to my heart with storage INSIDE the trimmer. Just imagine what it will be like with those cute little blades staring up at you, screaming to be put to creative use! Not to mention some other little compartments under there for just whatever you want. Oh, and it's purple. I love purple.
Another reason you need this trimmer is because it has that little guide to help you make perfect cuts every time. Good-bye skeewampy edges! One lucky person is going to LOOOOVE this ultimate trimmer.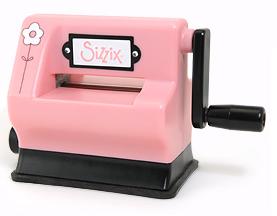 2. The Sizzix Sidekick die cutting machine.
The winner will also get this adorable die cutting machine AND a 4-pack of dies. I love the Sidekick because it's small and the dies are inexpensive and very versatile – a few dies go a looong way and this machine makes adding quick embellishments to pages and cards so easy and fun. When I first used it, I was totally perplexed about how it worked. You just turn the little handle, which pulls the template through, and a cut design comes out on the other side! No visible blade, perfectly silent, quick, and amazing! I tell you, turning that little handle makes me feel like a kid with a gumball machine, only I'd much rather have the die cut than a gumball!
My other favorite thing about this machine is its embossing capabilities. I. Love. Embossing. It is just so classy and cute and the texture…I love textured things – it's the part of me that has to touch EVERY piece of fabric in the fabric store. I just want to know how it feels! Embossing is the same way for me, although it's like a visual touch. It's just so…3D! And it's pink. I also love pink.
Fun, fun, and more…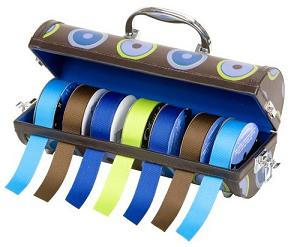 3. FUN when one of you wins this Portable Ribbon Dispenser by Creative Options. This handy item was in yesterday's pile, and another lucky person will get to take it home.
Like I said yesterday, ribbon is unruly, and there's not a lot you can do about it…unless you have this portable ribbon dispenser. You can use it for all sizes of ribbon, tote it to your girlfriend's house, or just look at it in your craft room because it's so cute. It's like a little trunk, with the latches and everything. And what a treasure inside! (That was cheesy…forgive me.)
I'm getting a little worn out from all this excitement! There are just so many great products to be given away this week, and they keep getting better. We have 2 days and 3 prizes left after today – one day will have 2 winners. Keep entering and earning those extra entries. Good luck to all of you! And thank you so much for your participation and excitement. I love to check your comments and hear how excited you are about all of this. You all are little flowers in my day!
Thanks to Purple Cows, Sizzix, and Creative Options!
___________________________________________________________
Blog Giveaway Guidelines:
To enter this contest, leave a comment on this post between now and midnight PST on Saturday, August 30th. You can earn additional entries for this contest. To learn how, click here.
One comment per person, and you must include your name.
This giveaway is only open to residents of the continental United States…sorry.
The winner will be randomly picked and announced in a new post on Monday morning.
If you have a product you would like Vanilla Joy to review and give away, email me at kelsey [at] vanillajoy [dot] com. Thanks!