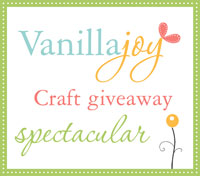 Here it is folks. The moment we've all been waiting for – the much anticipated CRAFT GIVEAWAY!!! The $900 in prizes this week are going to blow your mind, so stick around and enter each day.
Just like last time, you can earn additional entries. You do have to make a comment on this post to enter, and then there are several ways you can earn extra entries – The two easiest ways are to blog about this contest (15 points per post) and link to Vanilla Joy (10 points per link), but they're all super easy. You do have to follow some simple guidelines, so click here to find out how to earn and get credit for those extra entries. And just so you know, last time I had a giveaway most of the winners won because of an extra entry, so rack up the points. It's easy.
To see the rest of this week's prize packages, click here.
And now for the goods. Today's contest is for a …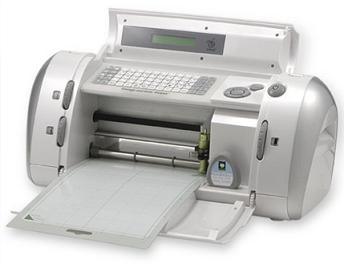 CRICUT!!!
To start off with a bang, the prize for today is a Cricut by Provo Craft. Yes, one whole Cricut, complete with George and Basic Shapes cartridge (which you might roll your eyes at to begin with because upon first glance it looks like the most boring and un-cute one there is (because this is exactly what I thought) but let me just tell you that I use this one A LOT. It is very handy to have, so cheer up. And you're going to get it for free, so EVEN BETTER!).
This is one of my favorite scrapbooking/crafting tools because it does everything. Someone out there is going to be very lucky and win this, and when you do, you're going to love it and use it all the time and stay up way too late every night. Consider yourself warned.
Thanks, Provo Craft!
___________________________________________________________
Blog Giveaway Guidelines:
To enter this contest, leave a comment on this post between now and midnight PST on Thursday, August 28th. You can earn additional entries for this contest. To learn how, click here.
One comment per person, and you must include your name.
This giveaway is only open to residents of the continental United States…sorry.
The winner will be randomly picked and announced in a new post on Friday morning.
If you have a product you would like Vanilla Joy to review and give away, email me at kelsey [at] vanillajoy [dot] com. Thanks!