I didn't do book talk last Monday because of the giveaway, and I am so glad to be back on track. I love sharing my favorite books with you!
Today's book talk book is Snakes!, by David T. Greenburg, and it's a great one. The story is about a boy who is afraid of snakes, and the book tells in rhyme the vivid and imaginative ways that the snakes are going to get him! The rhyming is delightful, and the author threw in bunches of big words, so this book is great for vocabulary building.
The book uses wonderfully descriptive language with lots of unusual and interesting adjectives about these exotic and frightening snakes. Here's one of my favorite parts: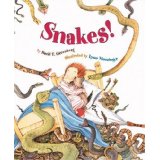 Reticulated belly snakes
Sea snakes, tree snakes
Peanut-butter jelly snakes
Hyperactive flea snakes
Antagonistic rattlesnakes
Wary snakes, hairy snakes
Dragonistic battlesnakes
Very very scary snakes
This book is so fun to read, and despite the unpleasant subject matter, I think kids of all ages will love it! Taking time to discuss any words that your child doesn't recognize or know the meaning of would be a great way to improve vocabulary. Rhyming is also an important reading and writing skill, and this book has page after page of clever examples.
If you don't care for snakes, Greenburg also wrote Bugs!, Skunks!, and Slugs! Enjoy!