I gave away a Kaboost last week, and I wanted to tell you how I really feel about the product.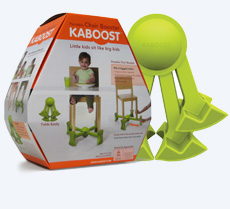 First of all, I don't think I've ever had so much fun opening a box in my life. The box it comes isn't square, it's shaped just like the folded up Kaboost. The top of the box is narrower than the bottom and stretches out to a square so you can get the fabulous contraption out.
Now for the actual product: Joel is not really ready to sit in an adult chair, but because the Kaboost chair booster raises him up so high, I can pin him between the chair and the table so he can't fall out. And he absolutely loves sitting at the table like Mom and Dad and having so much table space on which to bang and throw his food.
Here are some of my favorite features of the portable chair booster: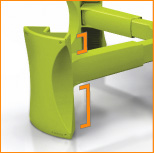 1. The Kaboost has two different heights. The brace is not in the middle but offset so that it's closer to the top on one side, creating two different chair heights, increasing the useful lifetime of the product. Lots of boosters out there are only one height so the child gets too tall for the booster but not enough to sit comfortably at the table without one.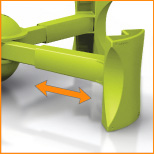 2. The Kaboost uses an adjustable spring system. It fits any four round or square legged chair and stays attached even when you lift the chair up. It's easy to put on, just stretch opposite legs until the chair fits on and the spring loaded mechanism holds on tight.
3. The Kaboost is sturdy and will hold up to 300 pounds. I just bought a tall work table for my craft room, and until I get a tall stool, Joel and I will be sharing it.
4. The Kaboost has rubberized feet, so it doesn't slip and slide around. That's the one chair Joel can't push all over the kitchen, which is one less obstacle for me to damage myself on.
5. The Kaboost folds up nice and small, making transporting it no problem at all. (That rhymes!)
To Kaboost, I say, "Where have you been all my life?" Dinner time is getting better every day.