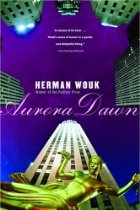 My sister recommended another of Herman Wouk's books, but as it was only available in large print at the library, I opted for this one instead. I loved it. Herman Wouk is a new favorite author because of his witty style of writing that makes you feel as if you're listening to a story teller rather than reading a book.
This is what it says on the back cover about Aurora Dawn:
"This wickedly amusing novel, which marked the literary debut of one of America's most admired and acclaimed storytellers, recounts the riotous adventures of an ambitious young Manhattanite in the early days of radio. Andrew Reale, in headlong pursuit of fame and fortune, finds himself face-to-face with his own devil's bargain – forced to choose between soul and salary, true love and a strategic romance – and learns a timeless lesson about the high cost of success in America's most extravagant metropolis."
A fun and engaging read – I give it 4 out of 5 stars.