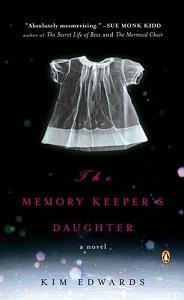 This book was excruciating. I loved it, but I will never read it again. The writing was amazing, so much imagery, but the story was absolutely gut wrenching.
The story is about Dr. David and Norah Henry, a young couple expecting their first baby. The story opens in 1964 on a snowy night in Kentucky when Norah goes into labor. The regular doctor gets stuck in the snow and can't make it to the hospital, so David prepares to deliver his own child. His wife gives birth to twins, the second with Downs Syndrome, but she's unconscious because of the gas used for pain relief. David gives the second baby to Caroline, his nurse, and tells her to take the second baby, a girl, away to an institution. He plans to tell Norah the truth but can't and so tells her that the baby died. The story is about the course this family takes after this one pivotal event, and how David, Norah, their surviving son, Paul, and Caroline deal with their loss.
I was in pain after I finished it. I could not stop thinking about how much damage it did that poor family to have this secret between them, how much happier they could have been had they been open and honest with each other, how much they needed something to pull their family together. I know that a single decision can change your whole life, but sheesh. This was 400 pages of evidence that that is true.
The story was difficult but the writing was incredible. I give it 5 stars and recommend it, but be prepared to feel emotionally depleted.