A reader asked if I had any ideas about reading with toddlers, so this post is in response to her question. If you have questions that you would like me to answer, email me or leave a comment and I'll do my best.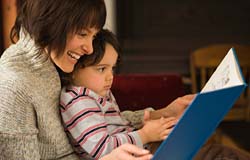 So….reading with toddlers. First of all, reading with toddlers is a lot easier if you've been reading to them since birth. Trying to start story time with your 2 year old will be difficult because they are not used to sitting still, but if your toddler is used to reading and has built up an endurance for reading, your reading time can be much more pleasant and educational.
If you haven't started yet, begin slowly by choosing a specific time of day to read one short book together. (Short means mostly pictures – Picture This by Alison Jay, There's A Wocket In My Pocket by Dr. Seuss, Sometimes I Like to Curl Up in a Ball by Vicki Churchill, or The Very Hungry Caterpillar by Eric Carle are a few good ones.) As your child's attention span increases, you can read more short books in one sitting – short books are still best for a while since toddlers still aren't cognitively ready for stories with actual plots.
Basically, you know story time is over when your child is no longer interested, and this will vary from child to child and even with the same child. Joel is 15 months and sometimes he'll let me read to him for 20-30 minutes, sometimes we don't even get through one book. If reading is fun and not a chore, he'll come back to you and want to read more later.
Here are some ideas on how to make reading with toddlers more fun:
Hold your child on your lap or close to you. Reading together should be as much about your relationship as it is about the story.
Ask simple questions that will entice your child to look and point – "where's the yellow duck," "where is the baby's hair/eyes/ears, etc." "do you see something blue," "where's the baby," "where's the mommy?"
Talk about animal noises when you see pictures of animals.
Talk about colors, shapes, numbers, foods – name things.
Read books that ask you to make some kind of movement – this is good practice for listening and responding/minding and also keeps your child engaged and involved. (From Head to Toe by Eric Carle is a good one.)
Vary your tone and volume – whisper, then talk loudly, sound happy, sad, or angry.
Be excited when reading time comes!
Choose books with simple pictures/illustrations and talk about them.
Designate special places and times for reading – in a favorite chair, on your child's bed, on your bed, outside on the lawn, during bath time or meal time.
If you have other children, read to your toddler by himself each day. This is important for a few reasons – toddlers and older children are cognitively ready for different books. Don't try to pick a one size fits all book. And reading time is great one-on-one time with parents, especially if there's a new baby in the house.
Mom and Dad should both read to the toddler.
Incorporate parts of the story into other activities – eat an apple after seeing one in the book, for example. Go to the park if your story took place in the park.
Choose books that are repetitive like The Napping House by Audrey Wood, Brown Bear, Brown Bear, What Do You See? by Bill Martin, Is Your Mama a Llama?, by Deborah Guarino/Steven Kellogg, or Today is Monday by Eric Carle
Read special books before bedtime like Goodnight Moon by Margaret Wise Brown or Goodnight Gorilla by Peggy Rathmann
Reading with toddlers is a blast once you have established a pattern and your toddler has the attention span for it. Books are wonderful teaching tools, and reading time provides an ideal situation for relationship building. Remember that reading should be fun and you'll do fine!
[photos from jupiterimages.com]