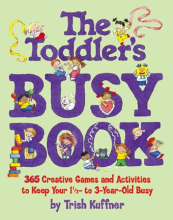 Kids need to do creative and interactive things each day rather than just watching TV and engaging in only passive recreation.  The Toddler's Busy Book by Trish Kuffner is a great resource for moms, pre-school teachers, day care providers, etc.  It has some great ideas for fun activities and games for 1 1/2 – 3 year olds.
Here are the chapter names to give you an idea of the content of the book:
Help!  I Have A Toddler

Organizing for a Toddler
Planning Your Activities
Stocking Your Craft Cupboard
What about Television?
A Word of Encouragement
Weekly Activity Planner

Rainy Day Play
Kids in the Kitchen
Water Play
Outdoor Adventures
Out and About
Nursery Rhymes and Finger Plays
Early Learning Fun
Music and Movement
Arts and Crafts

Scribbling and Drawing
Painting
Printmaking
Tearing, Gluing, and Sticking
Crafts and Other Fun Things to Make

Birthdays and Holidays

Birthday Celebrations
Valentine's Day
Saint Patrick's Day
Easter
Independence Day
Halloween
THanksgiving
Christmas
Hanukkah
Kwanzaa
There is also an appendix that includes recipes, best toys and books, and other resources.
I like to take time each day to play with my son, and as he gets older I am going to plan activities for us to do together.  I am really into fingerplays right now because my son really enjoys them.  This book has a fingerplay chapter that has several new ones that I've never heard before.
This book is all about letting your child experiment with different things and learn with their hands – after all, children learn best by doing and trying.  One activity, for example, is to make up some jello and put it outside in a baby bathtub and let your child touch it and play in it.  That sounds messy but so much fun for a child!
Many of these ideas take a little preparation and an open mind – some of them are quite messy, but children need to be allowed to make a mess once in a while!  I think allowing children to "play in the mud" sometimes will help them be neat and clean the rest of the time.
Check this book out at the library and see how your kids like the activities!