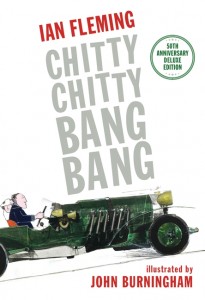 We love children's classics and have been reading one after another the last few months. We've been through Pinocchio, Jungle Book, The Wizard of Oz, and a few others. Most recently we picked up Ian Fleming's modern classic, Chitty Chitty Bang Bang.
This anniversary edition is beautiful with thick glossy paper, fun illustrations, and a "fooj" recipe at the very end (which we tried…YUM.)
I had never read this book before so we all experienced it together as a family for the first time and it was a huge hit. I read mostly during lunch time while the kids were eating – we've started doing this because otherwise lunch time becomes a sillifest and it drives me nutters.
We got through the story pretty quickly because even after they were finished eating they wanted me to keep reading. And after we finished, Elliot picked it up and read it again on his own. He's 7 and in 2nd grade – I'm so proud of his love of reading!
Elliot's favorite part of the book is when the Potts blow up Joe the Monster's secret cave and Gus's favorite part was when Chitty Chitty Bang Bang find the kidnapped children. Linus says his favorite part was also when they blew up the cave. Of course!
What a great story – perfect for all ages. We had 3, 5, 7, and 30 listening in and we all enjoyed it. Pick it up and read it, you'll love it!
Before Chitty Chitty Bang Bang we read Kate DiCamillo's Leroy Ninker Saddles Up. I enjoy all of her books and this was no exception.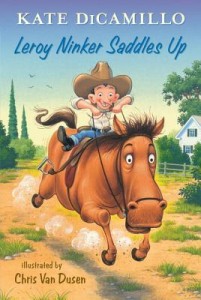 I particularly loved it was about a boy – there are so many wonderful books about girls and not so many about boys so we really appreciated this one.
It's a cute story about Leroy Ninker, who we have read about in the Mercy Watson series, and who wants desperately to be a real cowboy. He's got everything he needs…except a horse. He finds a unique horse full of character and quirks that he loves and all is well until…disaster strikes!
The book is a fun story about his adventure becoming a real cowboy and taking care of his horse. Some of our favorite Mercy Watson characters also make an appearance – Stella, Frank, Mrs. Watson, and Mercy herself.
There are plenty of adorable illustrations, done by the same artist as Mercy Watson, and the writing is simple enough for a good 1st grader to read on his own at least.
Put these two fun reads on your list – you'll love them!